Pack of 3 pads: one in use, one in the wash, one hanging dry. Repeat.

Also available in XL as a pack of 2.
No mess. No Stress. No Waste.
A quick, easy and eco-friendly solution to keeping your home clean while your pup gets toilet trained.


Rapidly absorbs up to 2x more urine than disposable pads and saves you the hassle of replacing multiple disposable pads daily.


Remains 100% leakproof to protect your floors and carpets, even after hundreds of washes.


Quickly and easily machine wash and tumble dry.


Safer for your curious pup - sturdy, shred proof and chew resistant.



For our planet: each pad is made of approx. 60% recycled polyester and saves up to 300 disposable pads from landfill.
---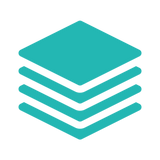 Up to 36% thicker than similar alternatives to maximise absorbency and comfort.
Yet not TOO thick, to ensure quick drying, no odour retention and no wastage of unnecessary materials.
Made Of Recycled Materials
Each pack of pads stops 100 plastic bottles from entering our oceans.
Find out more below.
Take the mess and stress out of having your new puppy - just enjoy the fun parts!
All while doing a part for our planet.
Further Product Info
Washing:
These pads can be machine washed from 30 degrees C up to 90 degrees C.
Do not use fabric conditioner.
They are tumble dry safe on low heat.
They are also very quick to hang dry.
Materials:
Recycled polyester, polyester, rayon, PU laminating and silica gel non-slip.
Made in Hangzhou, China.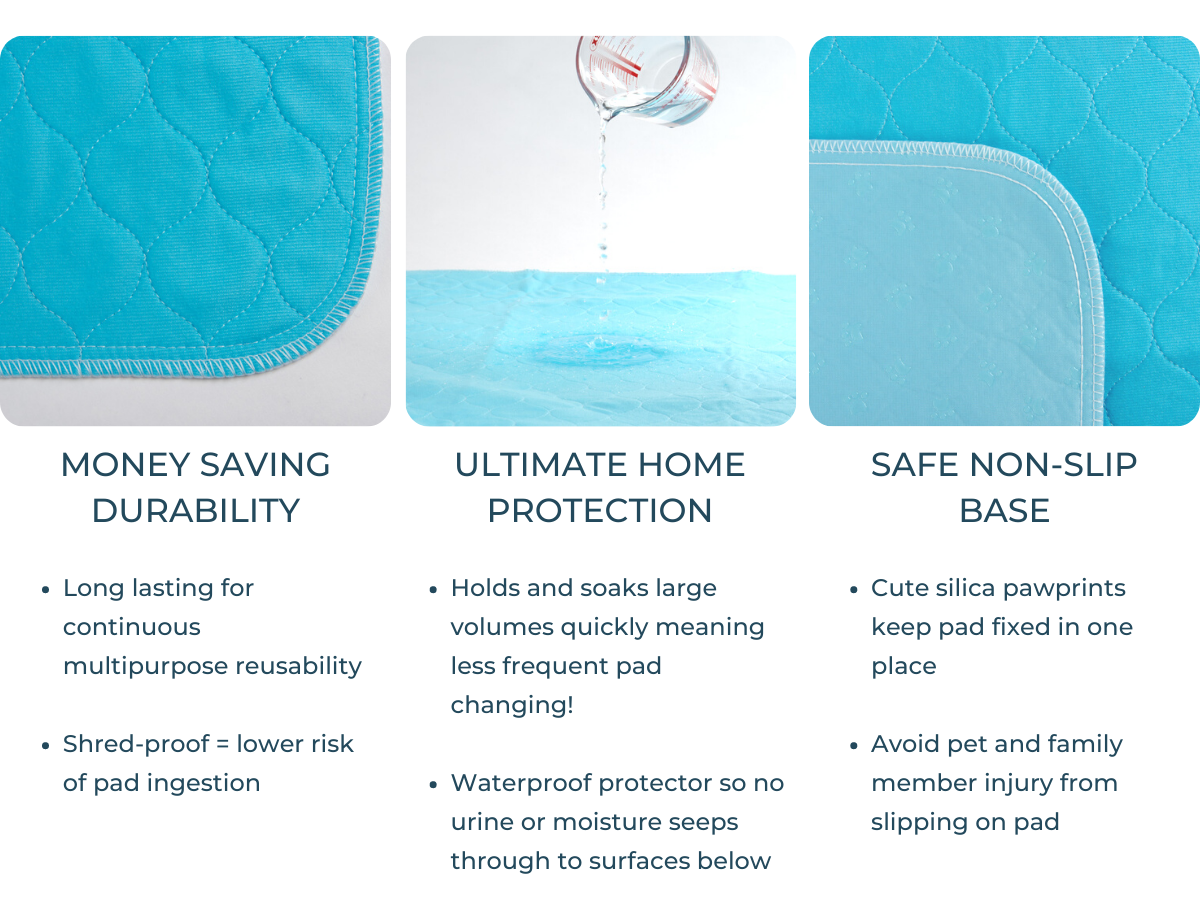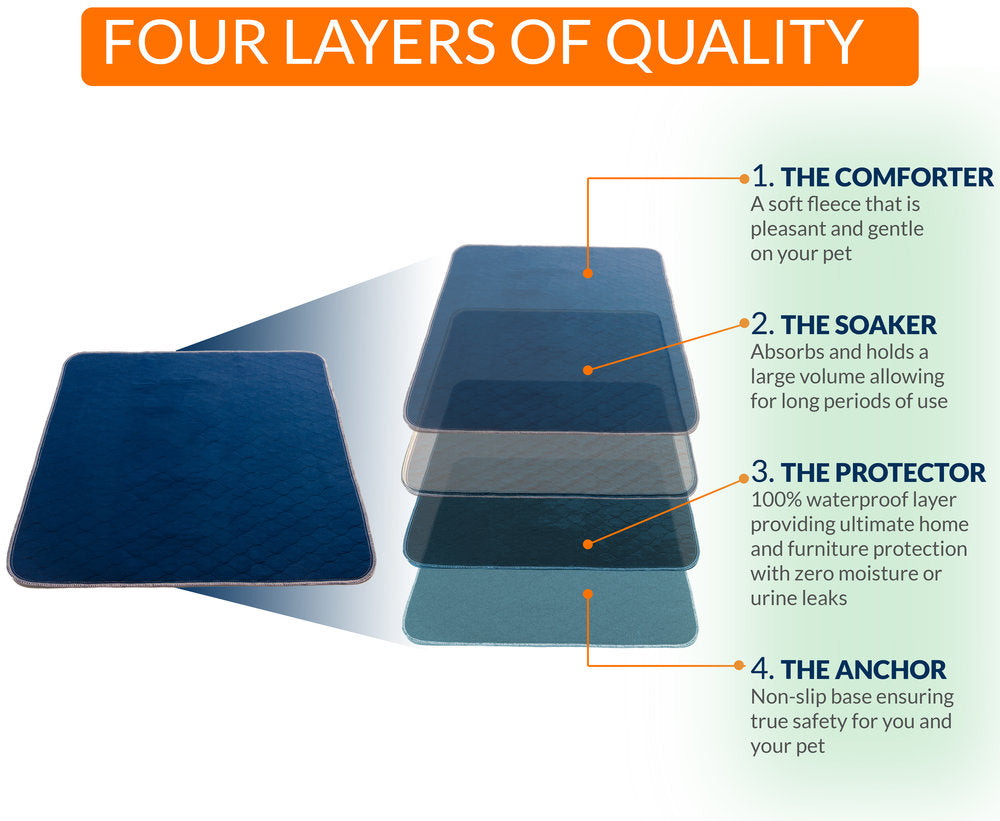 Sustainability
How are you and your puppy helping our planet?
Every pad is made of approx. 60% recycled polyester, hence reducing existing waste and the demand for fresh resources.
Each pad replaces up to 300 single-use disposable pads, reducing waste in landfill and plastic pollution.
A life cycle assessment of disposable vs reusable incontinence pads found reusable pads outperform disposable in all key environmental impacts.
Zero plastic packaging and packaged in recyclable FSC certified cardboard.
Each pack of pads stops 50 plastic bottles from entering our oceans.
What do we need to improve on?
Polyester as a material is still classed as a "plastic", so we are working on alternative fabrics that work just as well but are more eco-friendly.
These are currently manufactured by our partners in China due to the availability of raw materials and expertise. We are finding ways to have them manufactured closer to home while staying affordable for pet owners.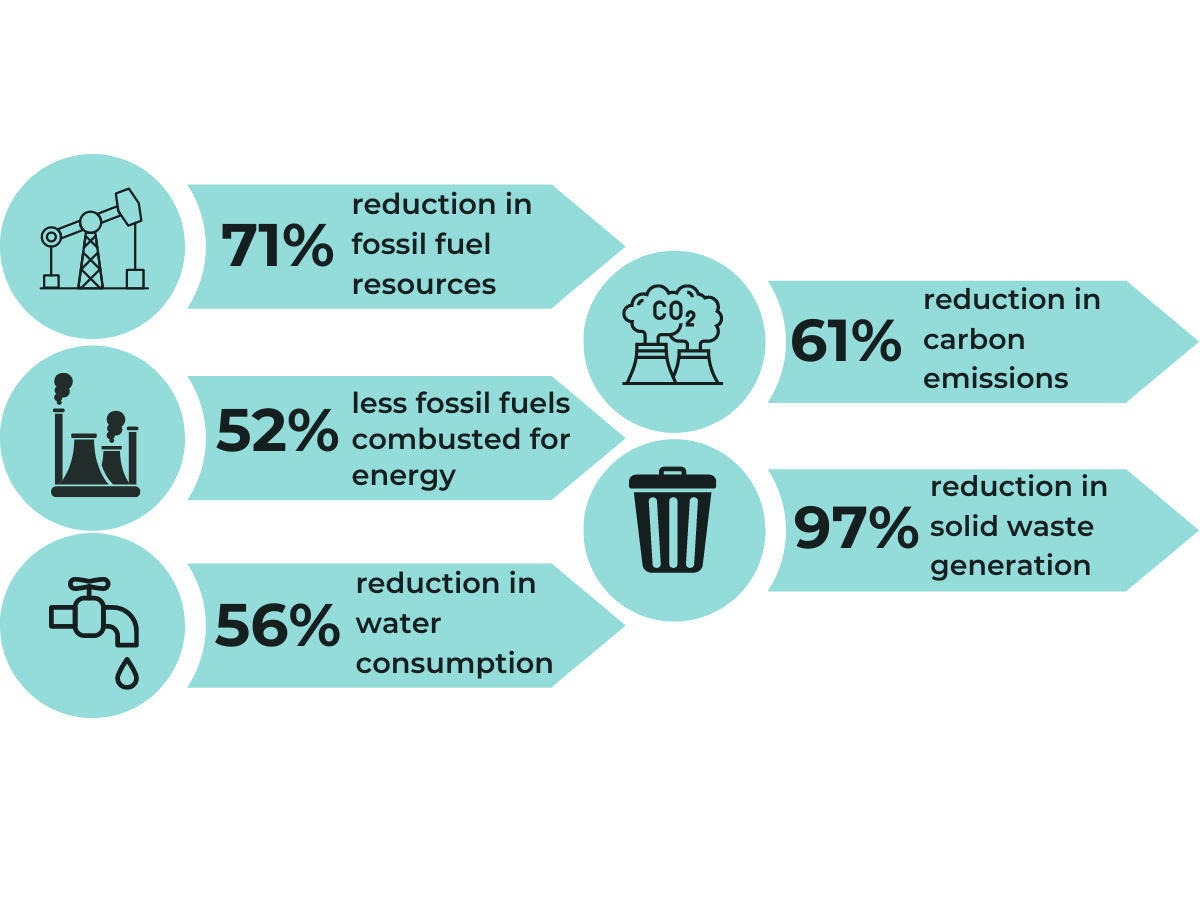 Life Cycle: Disposable vs Reusable Pads
A life cycle assessment is the most comprehensive & widely used tool to evaluate environmental performance of a product during it's entire life - from resource extraction, manufacturing, processing, use, to end-of-life disposal.
Frequently Asked Questions
Do they dry quickly?
Yes, these pads are made from polyester and polyester is one of the fastest drying and absorptive materials out there. You can hang them to dry as they only take a few hours to dry. Alternatively you can put them on a quick low heat tumble dry cycle.
How often do the pads need to be washed?
This depends on how much wee is passed. For small volumes, the pad can be washed every 2 or 3 days, but for larger volumes daily washing may be needed.
Can these be used for poop as well as pee?
Absolutely! We recommend that you pick up the bulk of poo and wipe the surface with a damp cloth then simply chuck the pad into the washing machine.
Do they stay leakproof after multiple washes?
Definitely. One of the key benefits of our pads is that they are incredibly durable and waterproof, thanks to the bottom layer which is made of PU (polyurethane).
Do they keep the odour in?
Yes - we've found many people report they rarely smell and washing them effectively removes odours.
How many times can a pad be used?
One reusable incontinence pad can be used and washed up to 300 times. Although we have had some people use them for years, so likely have got more use out of them. Of course this depends on the nature of use and care.
How big are the pads?
Standard pads are 80cm by 60cm and come in a pack of three.
There are XL pads also available, which are 90cm by 80cm and these come in a pack of two.
Can these pads be used for for whelping bitches, under cat litter trays, guinea pigs, rabbits or in bird cages?
Yes! These pads can be successfully used for a wide range of purposes, to protect doorways, car seats, crates, under food bowls, under litter trays, for whelping, within hutches or to protect soft furnishings such as sofas or beds.
But please check the sizing to ensure they are fit for your needs.
The possibilities are endless!
No mess.
Highly absorbent and fully leakproof.
Effortlessly maintain a clean home while toilet training your new pup.
Large size covers and protects large areas.
Lays flat without crinkling or tearing easily.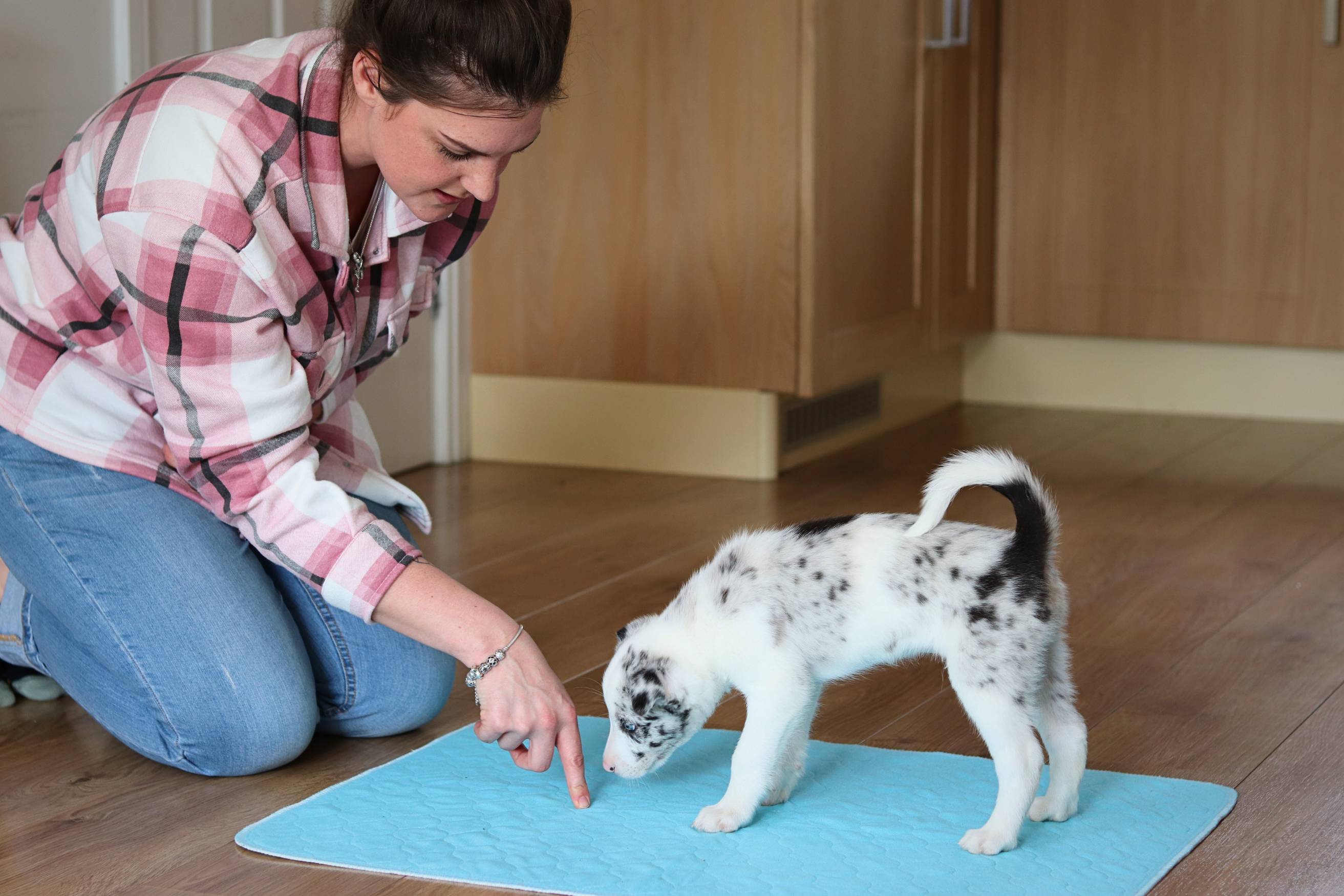 No Stress.
Stop worrying about having to replace disposable pads - these will hold twice as much urine and can last all day (or longer).
Curious puppies like to chew everything - have peace of mind with these pads that are sturdier and more chew resistant than disposables, meaning a significantly lower ingestion risk.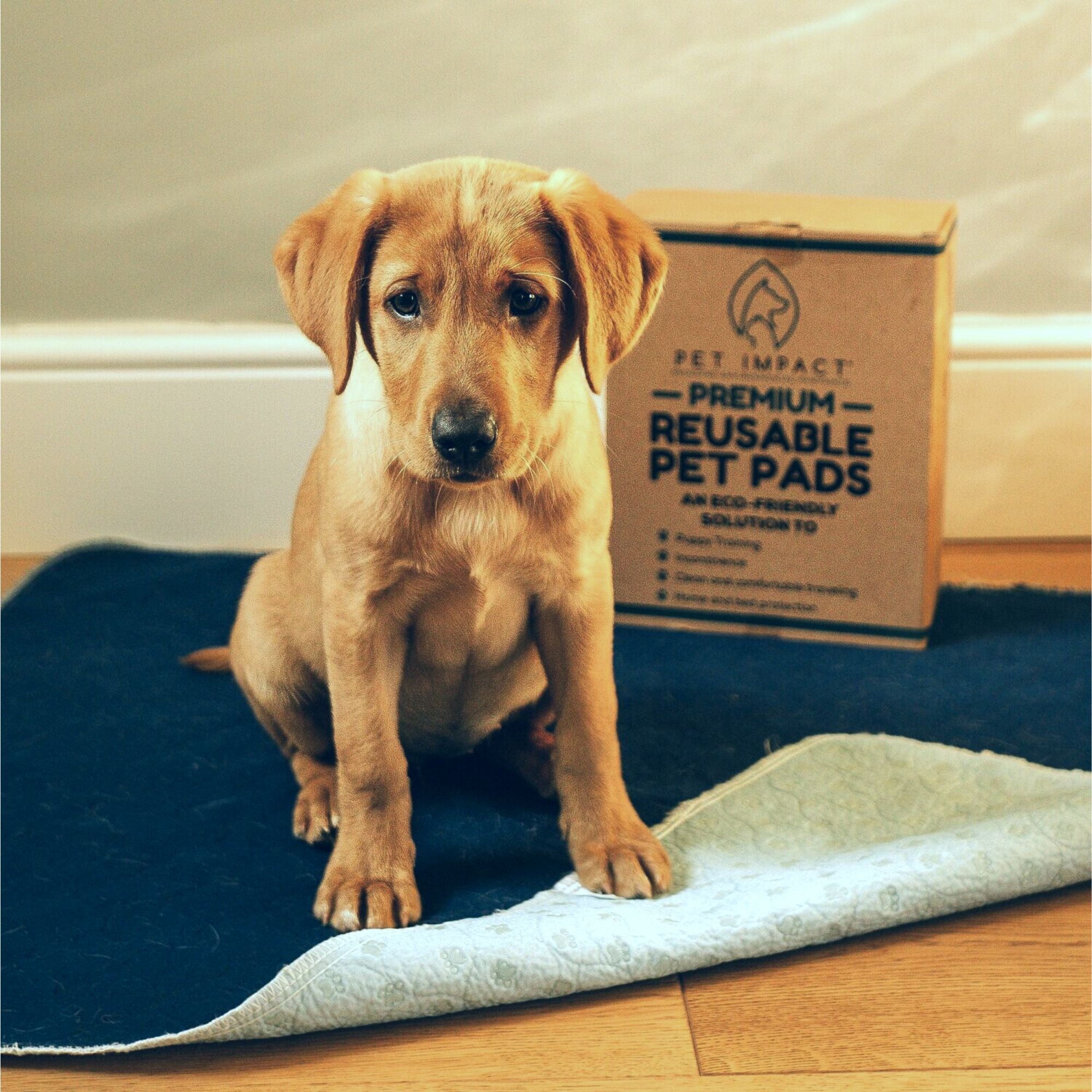 No waste.
Don't let your pup to contribute to plastic filling our landfills and choking our oceans!
Ditch the disposable pads. These reusable ones will ensure you successfully toilet train your puppy without the waste.
After toilet training, continue using them for crates/kennels, as car seat protection, or under food and water bowls.
How To Toilet Train With These Pads
Step by Step:
1. Place the pad in your designated toilet spot in the house. Ideally pick an area that is easy to clean.
2. Allow your puppy to see and sniff the pads. This will help them get used to the new item so they aren't scared of it at toilet time.
3. Let your puppy walk on the pad while you repeat a chosen cue for toileting, such as "go potty."
4. Puppies usually toilet after sleeping, eating, drinking, after playing and before bedtime. So after your puppy does any of these things, you'll want to pick them up about 15 minutes later and place them onto the pad.
5. Build up a regular schedule for toilet times. But also watch for tell-tale signs that your puppy needs to go (e.g. sniffing the ground, circling, or whining) and promptly take them to the pad whenever you see these signs, even if it's outside scheduled toilet times.
6. When your puppy toilets on the pad always say your chosen command and give plenty of verbal praise after the deed is done, petting them and/or giving a special treat reserved only for toileting.
7. Keep the puppy pad in the same place until your puppy starts going to the pad by themselves. Once your puppy knows what to do on the pad, you can slowly move it closer to the door or outside where you want your puppy to eventually use the bathroom.
_
Extra Tips:
Don't use the pad for anything else (e.g. play time or for eating) as you want them to only associate it with toileting.
A puppy can't control their bladder until they are 16 weeks old and they may have to go as frequently as every few hours due to their tiny bladder size. So accidents are inevitable initially. Remember never to punish them for accidents as this will only scare and confuse them and they will likely learn not to toilet in front of you (rather than not to toilet in the wrong spot!).
Clean up any accidents with a biological enzymatic cleaner (not ammonium-based products e.g. bleach) to avoid them toileting in the same place again.
Stay vigilant at all times! It's crucial you keep a very close eye on your puppy during this time. This will ensure that you catch them before they have an accident and it's imperative that your puppy associates toileting with going to their puppy pad.
Toilet train the smart way.
A puppy's sense of smell is highly developed compared to humans, so while you may not notice any smell from the pads, your puppy will be drawn to where they previously did their business, allowing you to toilet train your puppy faster.
An Investment
Stop wasting money on single-use disposable pads.
These pads can be reused as many as 300 times, making them up to 80% cheaper per use than disposable alternatives.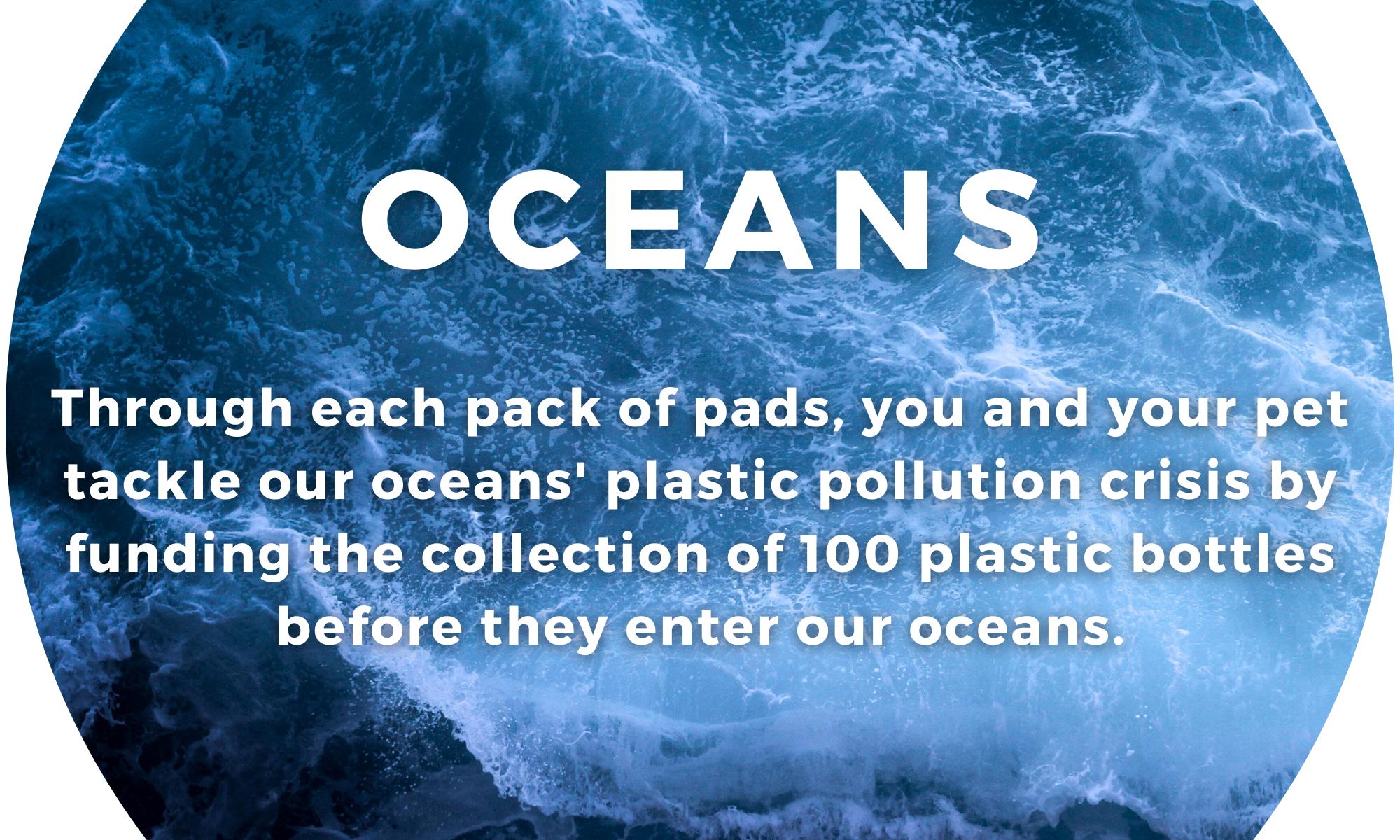 For Life in Our Oceans
These washable puppy pads belong to the Oceans Impact Sphere.
On top of being a reusable item, each pack of pads funds the collection of 100 ocean-bound plastic bottles to stop plastic pollution.
This is done through our collaboration with Ocean Co.
Find out more about your dog's legacy and Impact Spheres here.
Just what we needed!
So pleased to have found this product. We recently rehomed a former Bosnian street dog, and needed something to help toilet train him. I had initially purchased disposable pads, which were ok, but throwing so much away felt really poor environmental practice. These pads are perfect! Really absorbent, and they've coped with, well, messier accidents as well, quick hose down and in the washer, good as new. They provide good area coverage, and have been used to help crate train too. He doesn't chew at them, which is also great. Thanks for helping our dog and to ease my mind ☺️
Washable puppy pads
Our elderly Cairn has decided she's continent again so the pads haven't been put to the test (yet!) They are, however, very good quality and well made so should be fit for purpose. Arrived on time and helpful info from this ethical business. Thanks
Same success rate as disposable pads
Love that they're much bigger than disposable ones but this hasn't improved our hit rate.
Great that they can't be shredded too. Wish these had been around when I had a puppy 13 years ago.
Quality Item
Looks good and seems to be working well. Bought 4 for turnaround.
I am very happy with my order. It arrived promptly without unnecessary packaging. The Pee pads are absorbent, wash and dry well. So glad you make these. I would not be happy to use the wasteful disposable ones and am pleased not to have to use messy newspaper with this puppy. I look forward to using and seeing your future products. Thank you
Be part of something bigger
Join 15,000 pet owners who have saved
2,250,000 disposable pads
from landfill by choosing Pet Impact reusable pads.