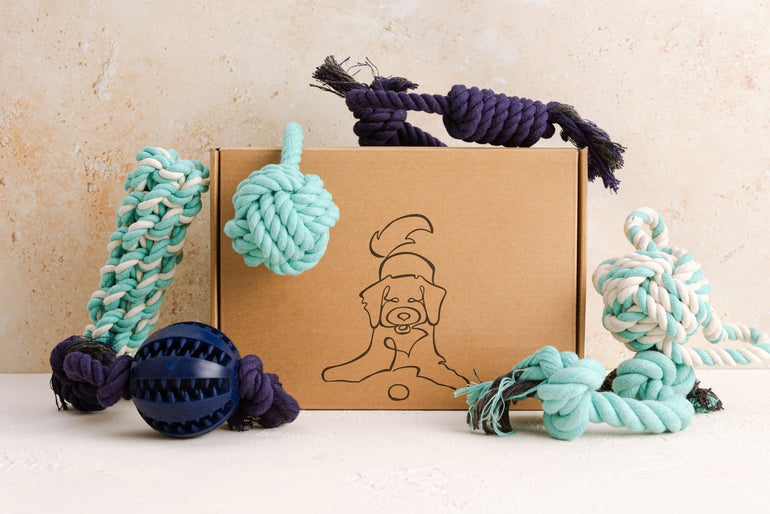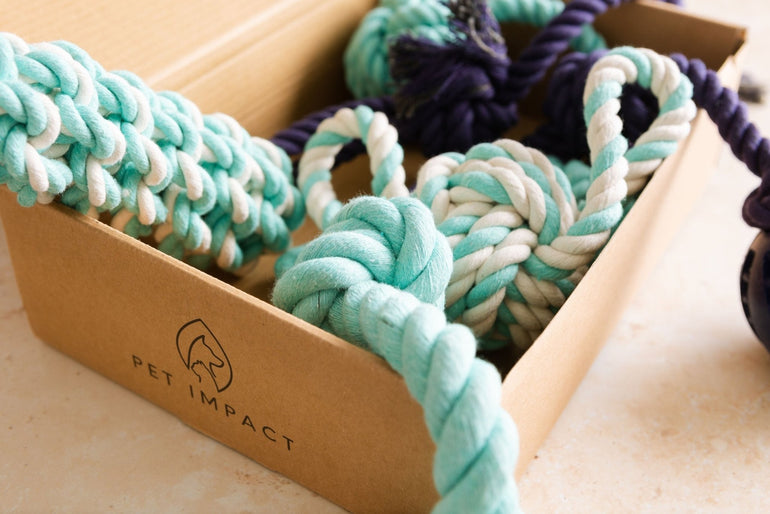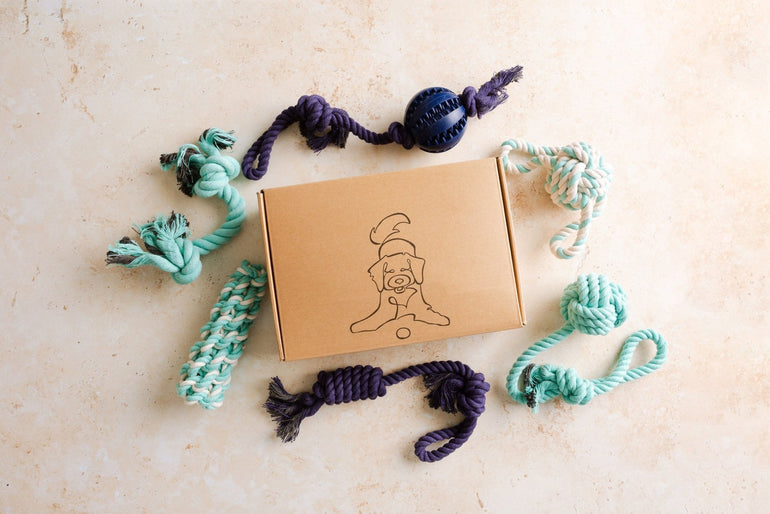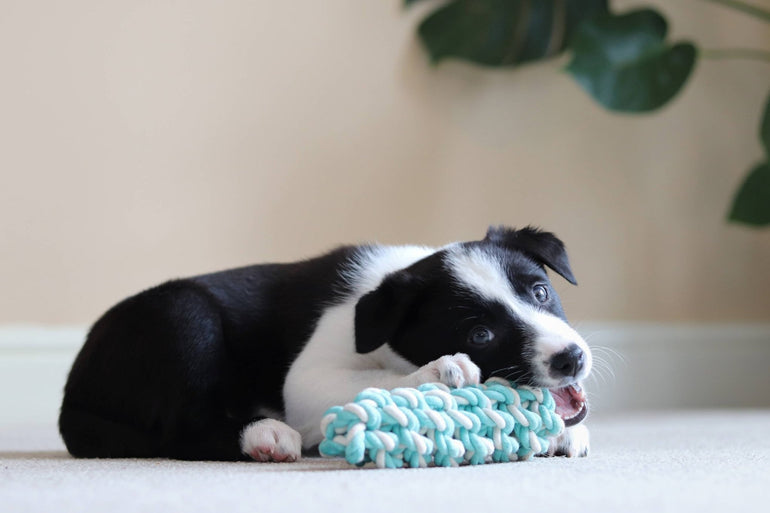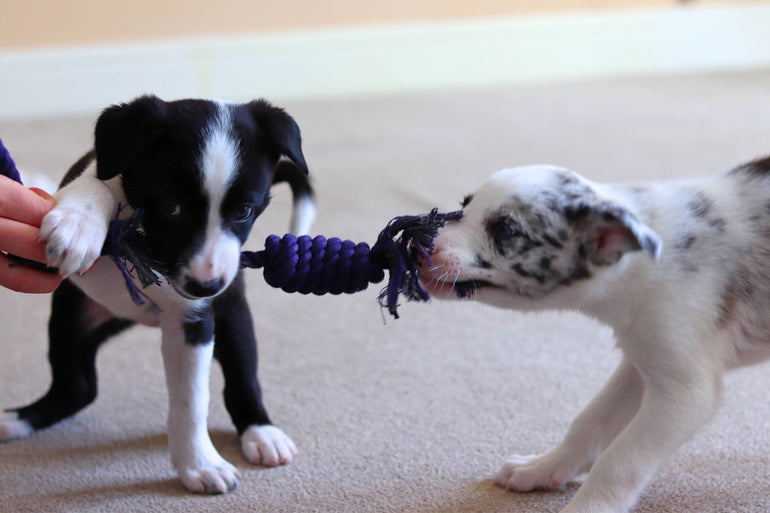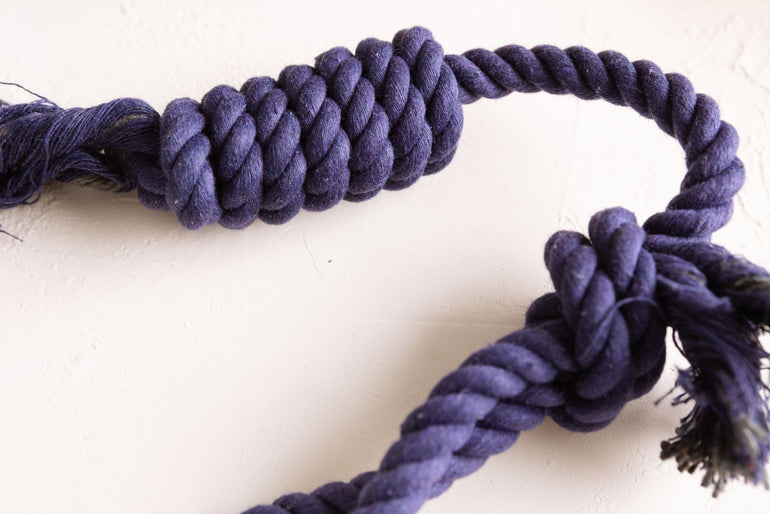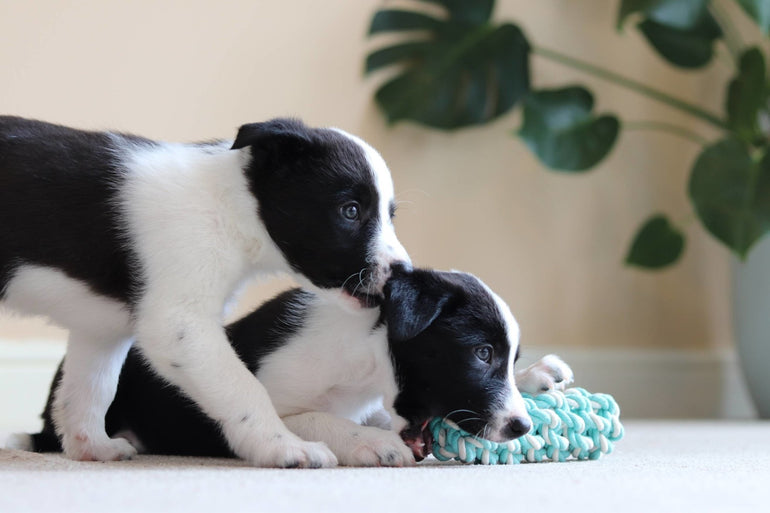 Learn the Ropes (Puppy Rope Toys)
A box full of excitement - interactive recycled play toys to strengthen the bond between you and your pup!

(As if they don't already love you enough!)
A perfect selection of toys to offer different types of play with your energetic puppy
Durable yet destructible - strong enough to take a good chewing and tugging, but not too hard that it will damage your pup's little teeth
Offering both physical and mental stimulation for your growing pup, and most importantly - a whole lot of fun!
For our planet: made with 100% pre-consumer recycled cotton and packaged in a plastic-free, FSC certified cardboard box
---
Zero Plastic and Micoplastics
Learn the Ropes (Puppy Rope Toys)
Why Should You Get Rope Toys for Your Puppy?
As social animals, puppies require interactive play between you (the owner) and them. This allows for physical and mental development, while increasing the bond between you and your pooch.

Rope toys have gained popularity over time as a standard part of a dog's toy box, and for good reason. These ropes allow for many innate movements and actions that come naturally to dogs during play - tugging and pulling, gripping something hard with their teeth, vigorous head shaking while growling, chasing, catching, etc. - all while being safe for your dog.

Good dog rope toys are constructed to be durable and tough, yet non-damaging to a dog during rough or intense play. We all know how immersed into play a dog can get - if they were holding on to something too hard or sharp, it's likely they'll end up at the vets for a mouth or tooth injury.

Learn the Ropes by Pet Impact is a collection of pure cotton rope toys, made to be strong yet safe and soft for your pooch to play with. These toys are specifically for puppies and can provide for some exciting play times between you and your pooch (they are not designed to be left with an unsupervised dog as they are play things, meant for interactive activity).
Product Info
Each box consists of 6 toys:
Tug-of-War
The Chaser
Brain Power
UFO
Chew Bone
Fetch!
All toys are made of recycled cotton, with Brain Power also having a rubber treat ball included.
The toys are manufactured by a partner factory in China.
Sustainability
How are you and your puppy helping our planet?
Each rope toy is made with 100% pre-consumer recycled cotton, such as off cuts and waste fabric that never made it to consumer use. Thus by using this 'waste' fabric, we're reducing waste going into landfill and reducing demand on valuable resources, such as land and water to grow new cotton. Since cotton is a natural material, you have peace of mind that no zero-microplastics are shed, into our environment or into your pup while playing!
Zero plastic packaging and packaged in FSC certified recyclable cardboard.
What can we do to improve?
The rubber ball included is not made of recycled rubber, which we are hoping to change.
These toys are currently manufactured in China, where the waste fabric is sourced to be recycled. Ideally, we would want to make these closer to home to reduce our carbon impact from shipping.
Safe, eco-friendly toys to keep puppies engaged, stimulated and active
Tug, fetch, chase, chew - these rope toys for puppies provide all the crucial fun activities for optimal physical development and mental enrichment.
100% Plastic-Free
Zero plastic parts to reduce choking risks (for both your pup and the turtles)!
Zero plastic packaging. Reuse the box for storage or recycle it with cardboard!
Chew toys are meant to be chewed on, and rope toys are meant to be vigorously tugged on.
However a puppie's teeth are not indestructible so neither should their chew toys! Chews that are too tough can result in painful and costly tooth fractures (believe us, we see it as vets!).
It's about a balance of being tough and durable, yet willing to be ultimately scarficed so your puppies teeth don't have to be.
Toys to take the hit from those razor sharp puppy teeth so your sofa and shoes don't have to!
Strengthen the bond between you and your new pup
As social animals, puppies require interactive play between you (the owner) and them. This allows for physical and mental development, while increasing the bond between you and your pooch.
What's included in your box?
Brilliant
Bought for a three month old Standard Schnauzer and he loves them. We bought these and a second pack from elsewhere - there's are used far more often and have held up far better [the others are unravelling already].
Love the brand ethos, and the quality of the products. Will be buying the Enrichment box!
Brilliant set of toys
Bought for my spaniel pup, has been great for play times and letting him chew while teething. Made of recycled materials so helping the planet, win win!
Enrichment box & Puppy toy box
Great products. Havent tried them out yet as our puppy disent arrive until April 14th. Well made and arrived are packed well.
Puppy ropes are good quality and much loved by my puppy. Nothing inside for puppies to choke on they make perfect sense
Strong and durable
Bought this for my staffy and they lasted pretty well until he started teething. He managed to destroy all of the items in a short space of time. Still good value for money.
For Our Changing Climate
These rope toys belong to the Climate Impact Sphere.
They come accompanied with a simple step by step guide and our personal support so you can:
1. Find out if your bank is funding climate damaging corporations (e.g. fossil fuel companies).
2. If so, learn how to look for an ethical bank instead.
3. Seamlessly and easily switch to an ethical bank (changing banks is not as tedious as you think)!
*we are in the process of finalising this guide and the added support - this will be available soon!
Find out more about your dog's legacy and Impact Spheres here.