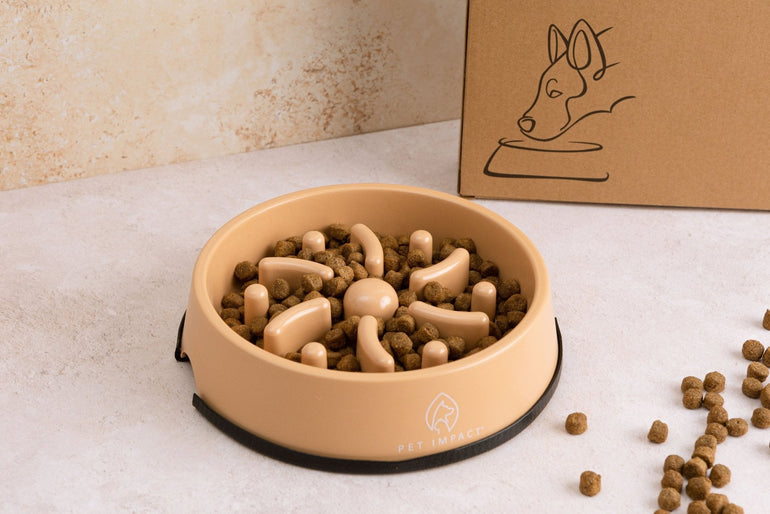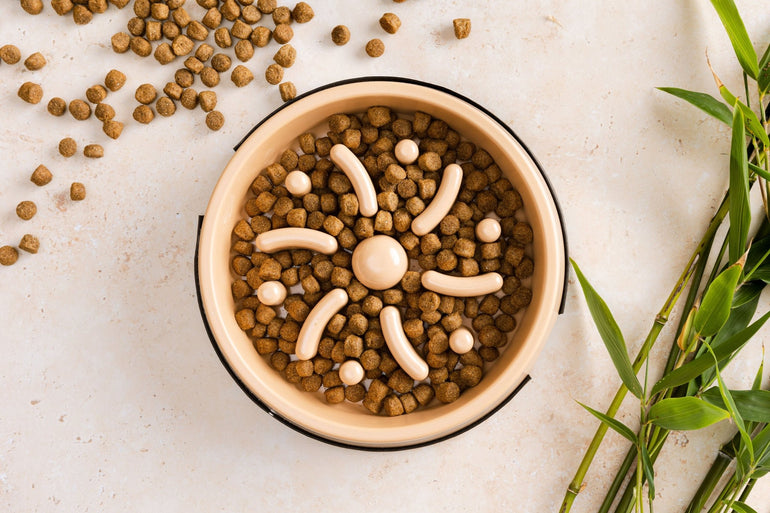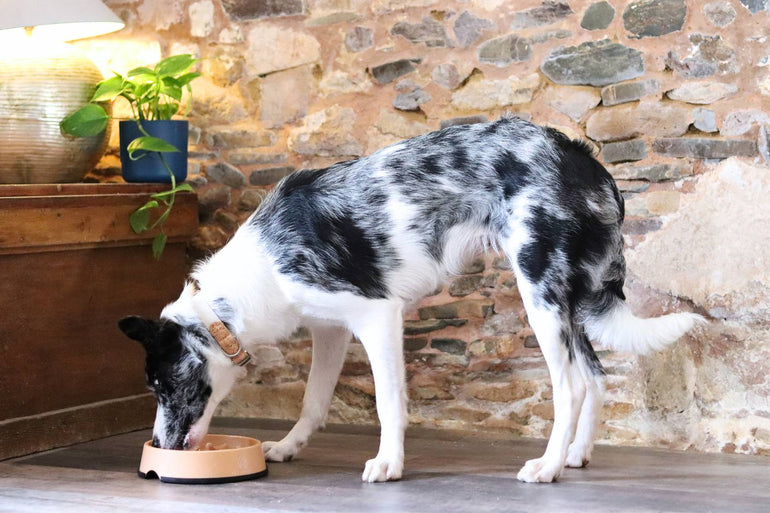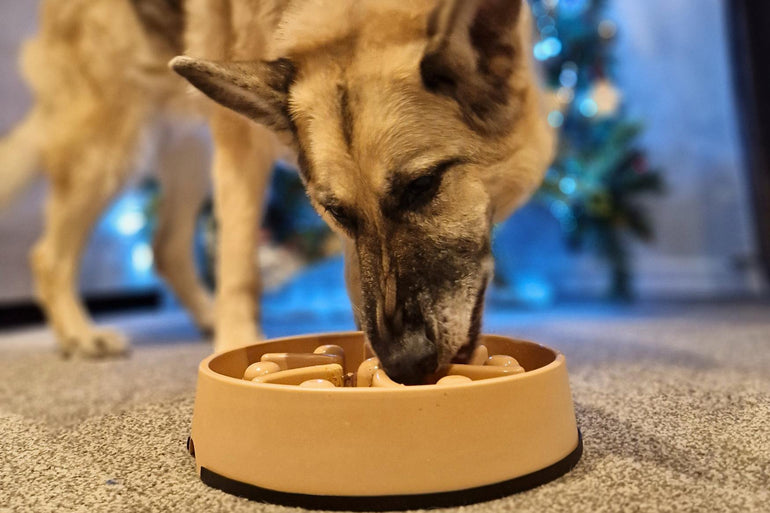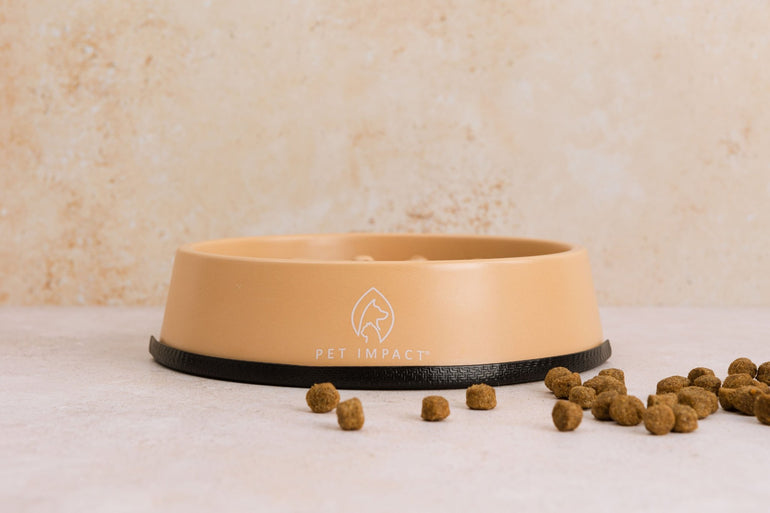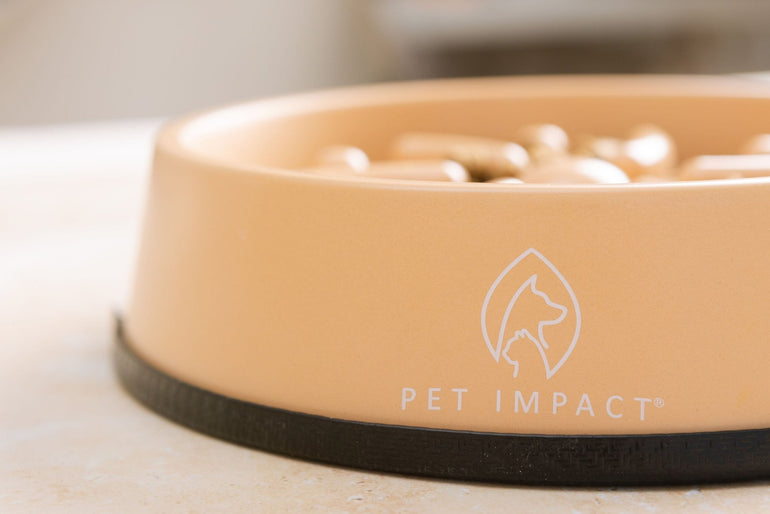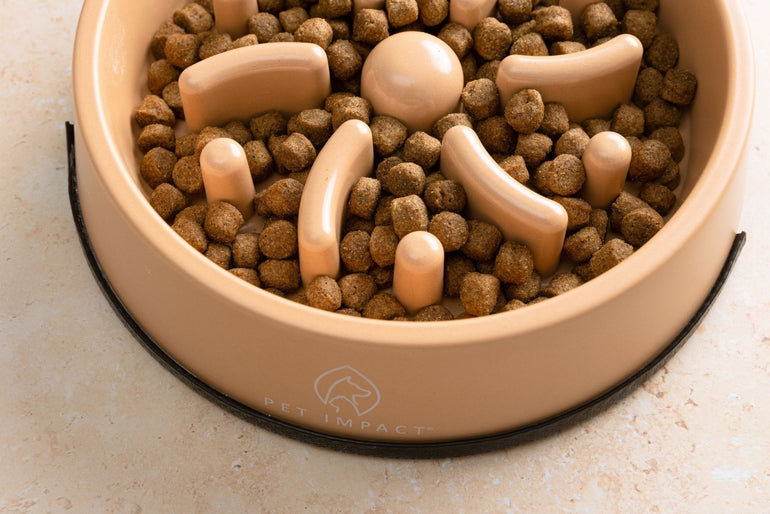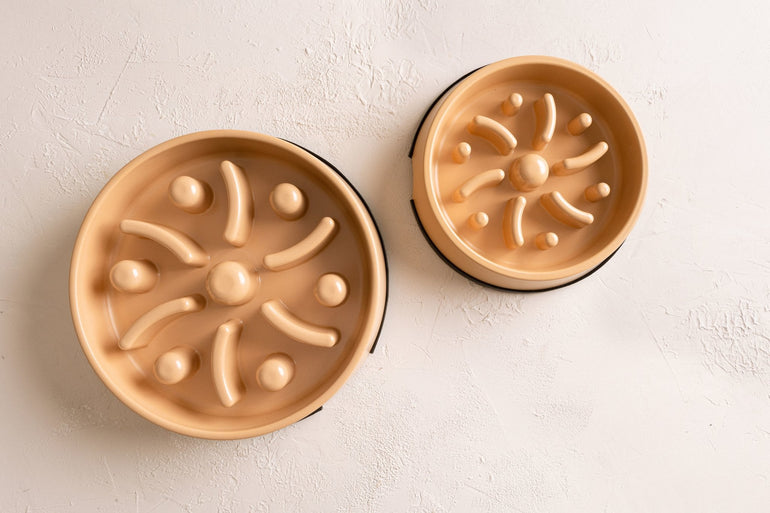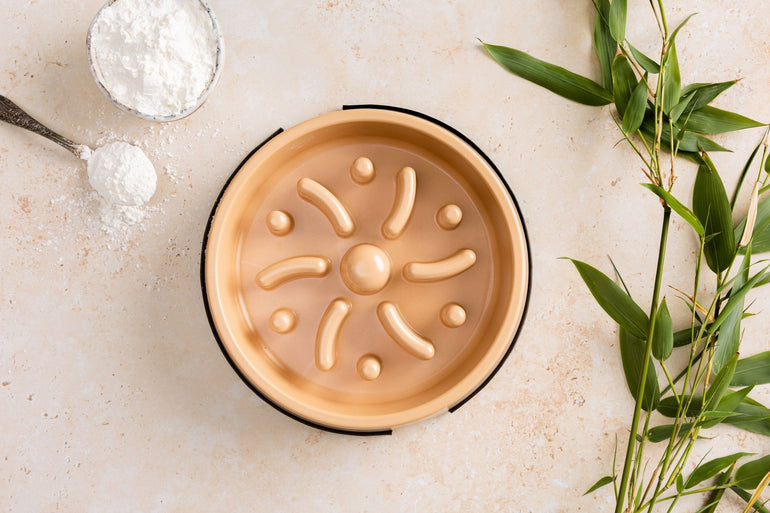 Bamboo Slow Feeder Enrichment Bowl
The easiest way to enrich mealtimes.
The fastest way to slow them down.

Provides mental enrichment with every meal. Exercising cognitive skills has been shown to improve the behaviour, mental health and overall welfare of our dogs.

Studies have shown that mental stimulation is emotionally rewarding to our dogs and that they prefer to work for their food rather than have it freely available. A lack of mental enrichment has also been linked to a more significant cognitive decline later in life.

Designed by vets to encourage optimal brain engagement by promoting natural foraging behaviour and to slow down eating without causing frustration.

Improves gut health and reduces the risk of choke, bloat, indigestion, vomiting, twisted gut and overeating.

For our planet: 80% of the bowl is made using plant-based renewable resources (bamboo fibre and corn starch), which capture CO2 and release oxygen in their growth, and place less demand on finite resources like fossil fuels.
---
Natural Renewable Resources
This slow feeder bowl also helps slow down climate change through action in support of ethical pet insurance.
Find out more below.
---
Bamboo Slow Feeder Enrichment Bowl
Give Your Dog A Healthier Mind & Digestive System
Transform frantic meals into a calm, mindful and healthy dining experience.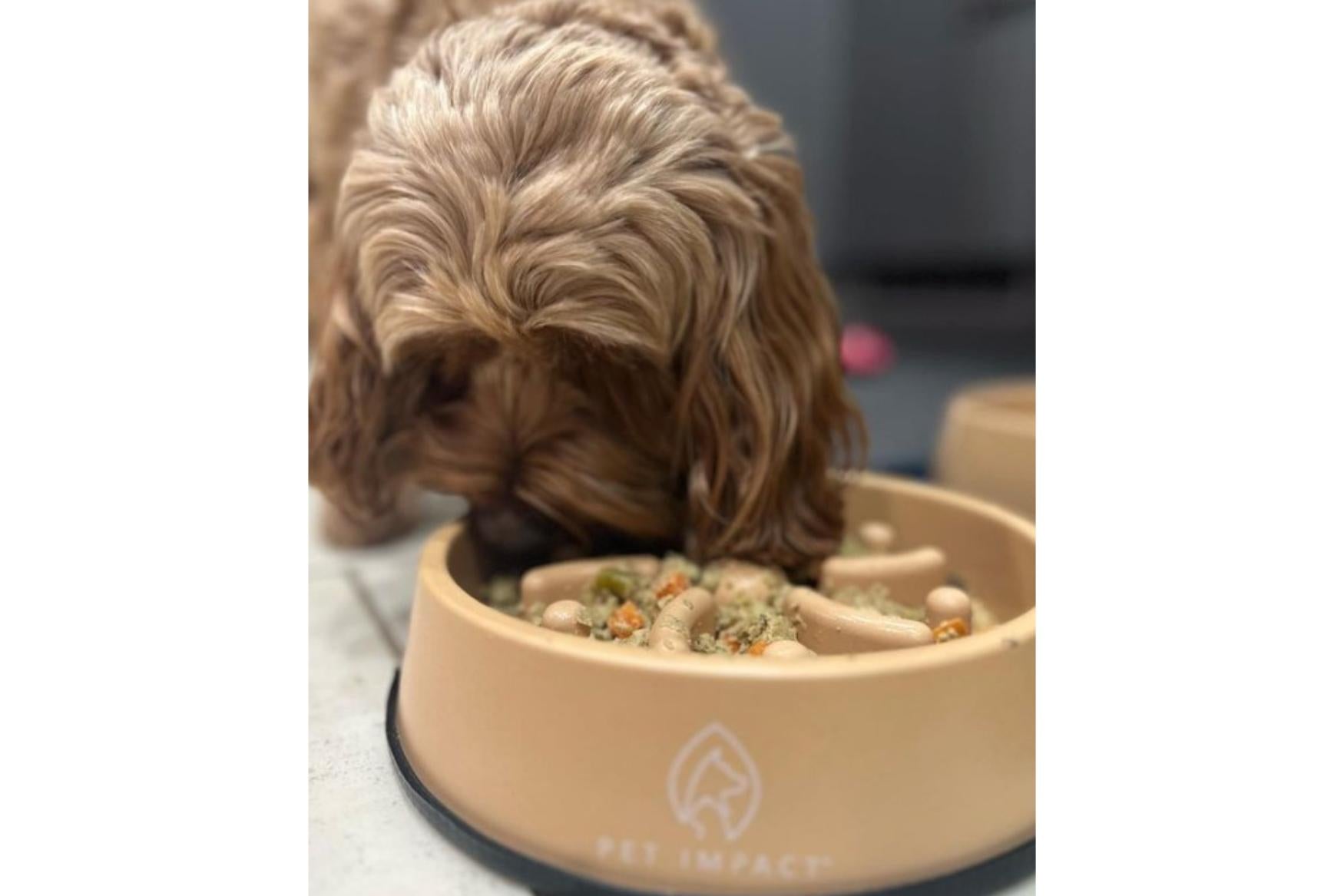 A single switch with multiple benefits!
Mealtimes are often a missed opportunity to provide our
dogs with mental enrichment.
Improving their eating habits also has many health benefits for their gastrointestinal system!
Frequently Asked Questions
What size should I get my dog?
Medium bowls suit puppies and small to medium sized breeds. Large bowls are perfect for large and giant breeds.
MEDIUM - 18cm diameter, 3.5cm deep
LARGE - 26cm diameter, 6cm deep
Please view the "size guide" above (click the "?" next to sizes) for more detailed measurements!
Is this bowl suitable for my dog's breed?
Yes, this slow feeder works perfectly for all breeds, big or small, and all snouts, long or short (including flat-faced dogs like frenchies)!
Will it work for my dog's food?
This bowl is suitable for any type of dog food - dry, wet, raw, and anything in between!
Is the bowl dishwasher safe?
Yes, the bowl can be placed in the dishwasher.
How To Use
Most dogs will use this bowl right away, but some can take a short while to learn how to use it. If so, try popping a few of their favourite treats inside first and give them some time!
This bowl couldn't be easier to clean! Simply rinse the bowl immediately after use and place it in the dishwasher! If hand washing, a small brush (or old toothbrush) helps get into the corners.
For the more mischievous dogs and puppies, we suggest putting the bowl away when it is not in use to avoid any possibility of the bowl being damaged.
Please note, the bowl is not microwave safe.
*Bamboo fibre as a material behaves similar to ceramic - while sturdy and durable, it can break if dropped from a height!
Sustainability & Product Info
Our slow feeders are made with 50% bamboo fibre and 30% corn-starch, bound together with a 100% food grade safety tested melamine binder.
Conventional slow feeders are made with plastic and therefore rely on fossil fuels (oil) to be made. This also makes these slow feeders light and easier to flip over, unlike our heavier bamboo slow feeders.
How are you and your dog helping our planet?
Bamboo is a renewable that grows in abundance and is the fastest growing plant on the planet. It absorbs huge volumes of carbon dioxide (twice that of trees) in its growth, and similarly releases lots of oxygen (up to 30% more than most plants and trees!). It is also a hardy resilient plant that does not require pesticides. After harvesting the bamboo does not die, but instead regenerates from its roots, so it doesn't need to be replanted which helps preserve soil health.
Corn-starch is another natural material which is easy and safe to grow and produce. Like bamboo, it absorbs carbon dioxide and releases oxygen during its growth. It also requires 65% less energy to be produced than conventional fossil fuel based plastics. Since it is a plant, it does not contain toxic chemicals such as BPA or phthalates.
Ethically made with a BSCI compliant partner in China, where 80% of the world's bamboo is grown. Being BSCI compliant means they have worked hard to meet high social and environmental standards set by an independent third party.
Zero-plastic packaging. This bowl is packaged in a compact, recyclable cardboard box.
What do we need to improve on?
Bamboo fibre products are not yet recycled, meaning these bowls cannot be recycled at the end of their life / if they break.
Using melamine resin is needed to hold the bowl together, but this means the bowls are no longer 100% plant-based and will not "naturally breakdown" as such. We are looking into alternative materials as there are currently no plant-based resins that will be strong enough to keep this bowl functional and affordable.
"From 10 seconds to 10 minutes"
Instantly stop your dog from wolfing down meals in one effortless step
A simple solution to fast eating and consequent health issues such as:
hiccups
choke
bloat
vomiting
indigestion
not feeling full
over-excitation with food
over eating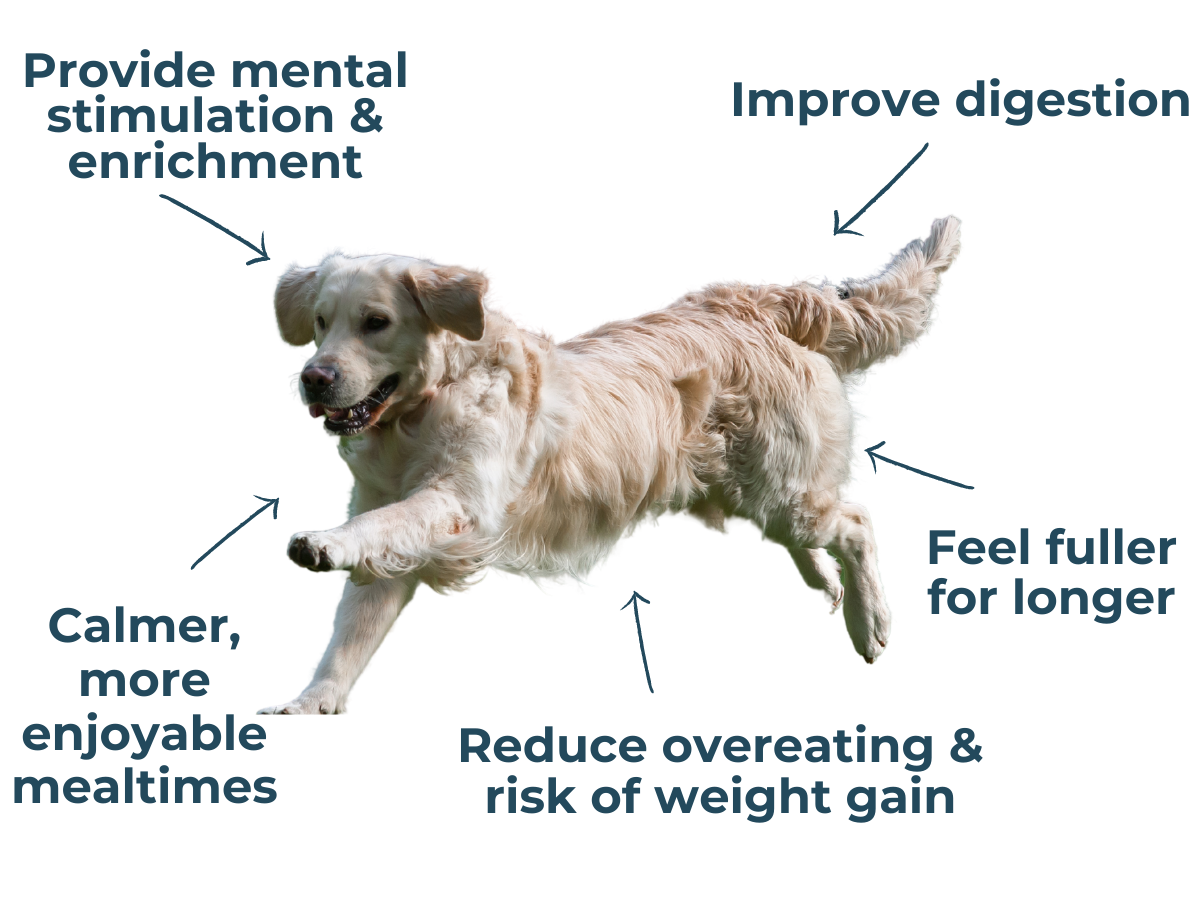 For a happier gut and a brighter mind!
An optimal eating pace and mental enrichment with every meal.
Suitable for any type of food - dry, wet, raw and anything in between.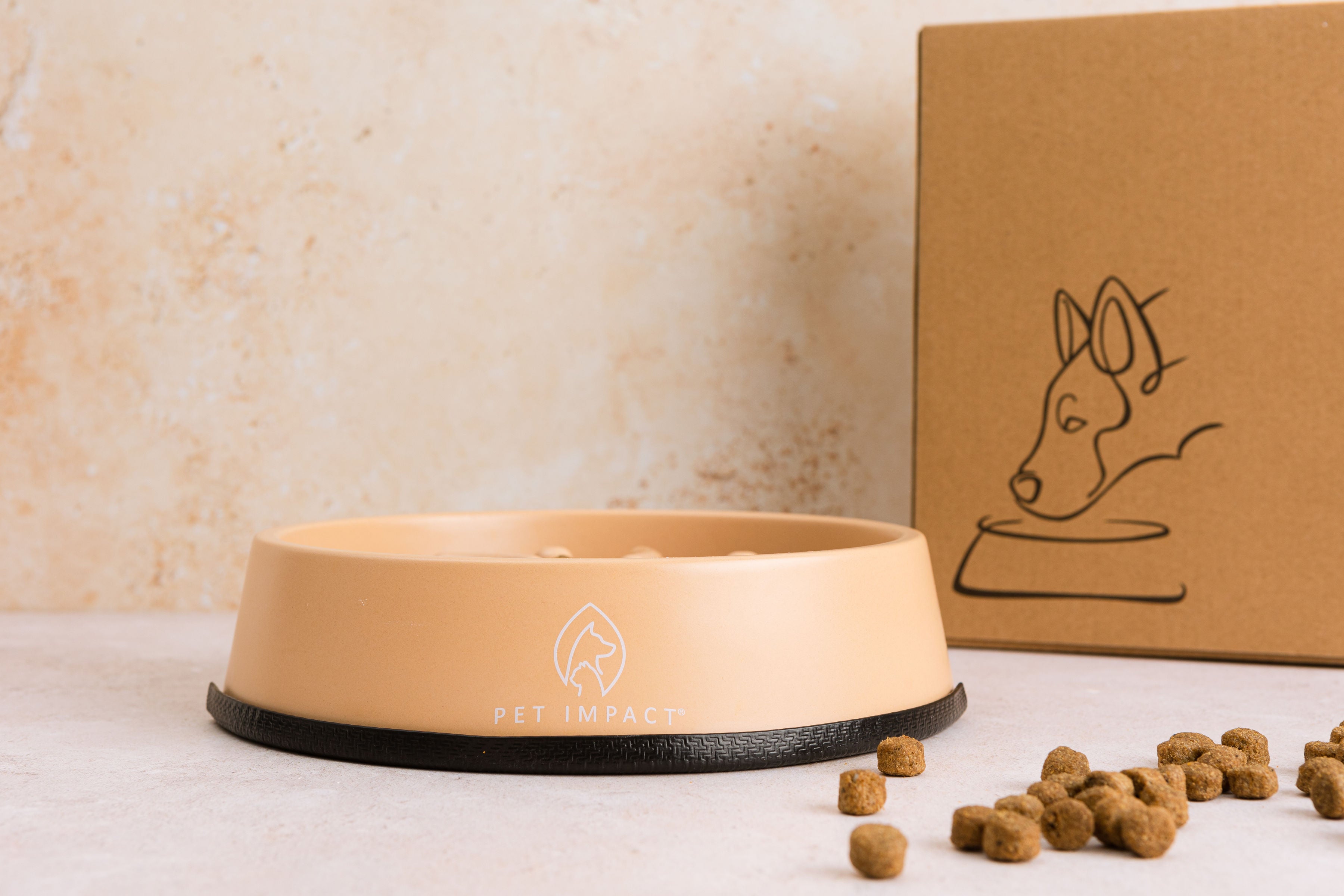 Unrivalled Quality
Not just another piece of plastic.
3 times heavier than standard plastic puzzle feeders & slow feeder bowls.
"This is definitely sturdy and doesn't move when my dog is eating from it. He would pick up and chew the other cheaper ones. Worth the extra money."
- Daniel
Made using natural renewable resources
Reducing your dog's environmental pawprint!
Join over 9000 dog owners who have taken a step to improve the health of their pets and our planet!
Just fandabidosi
Bought those bowls the second time, first for 2 puppies we were looking after for 2 months.
2 Golden Retriever Puppies, scoffing their food down to fast.
Discovered pet impact, 5 Stars for this product.
Thank you Alice and Gavin
Nice quality
My dog already has a snuffle mat for slow feeding and I bought her this bowl as an alternative at teatime. It's really good it slows down her feeding considerably and she now has to work at her meal rather than gobbling it.
So glad we got this
This has really helped my dog slow down. She used to wolf down her food in seconds but now it takes a couple minutes (she's figured it out pretty quickly!). I already had the normal bowls and the quality is the same, I really love this set. The only thing I'd say is that the slow feeder bowl has its own non-slip but on the bottom so it won't slide around. It does also fit on the mat (which I got with the other bowls) but it's quite a snug fit and you have to push it down a bit. Not really an issue, just worth mentioning as I couldn't find info about whether it was designed to go with the mats or not
Best slow feeder
Brilliant slow feeder, slowed my pup right down from 20 secs to a good 10 mins! Also trying to do what I can for the planet so great to be able to get a more sustainable option. Thanks
Excellent
I accidentally broke Maverick's bowl so bought a replacement quickly and easily from Pet Impact. Previous one lasted 2 years, so good value for money and eco-friendly.
For Our Changing Climate
This slow feeder belong to the Climate Impact Sphere.
Each bowl comes accompanied with a simple step by step guide and our personal support so you can:
1. Check if your pet's insurance company is funding climate damaging corporations (e.g. fossil fuel companies).
2. If so, learn how to source an ethical pet insurance provider instead.
3. Seamlessly and easily switch to an ethical pet insurance that offers just as good (if not better) cover for your pet, plus no climate damage!
*we are in the process of finalising this guide and the added support - this will be available soon!
Find out more about your dog's legacy and Impact Spheres here.