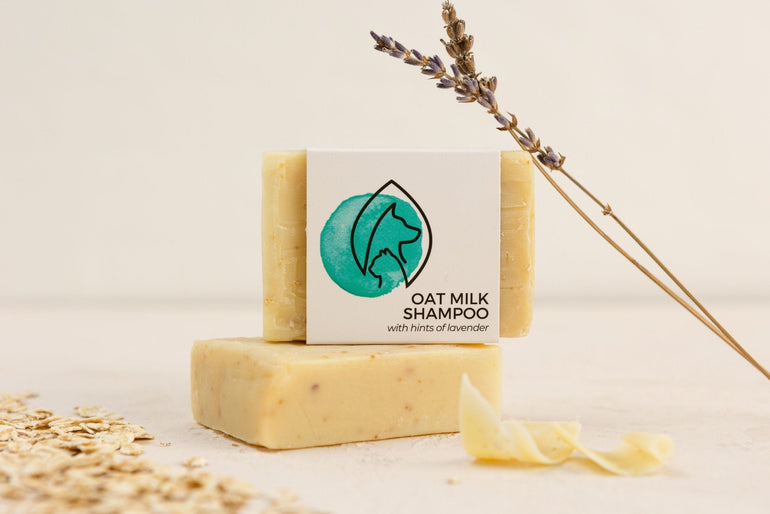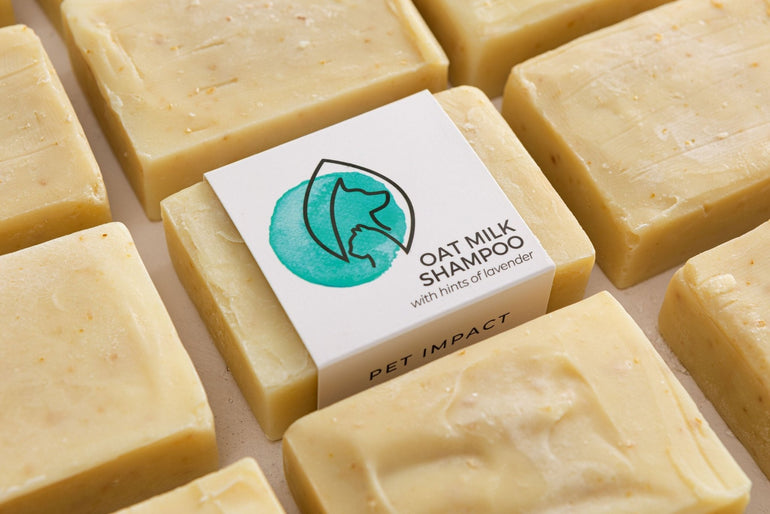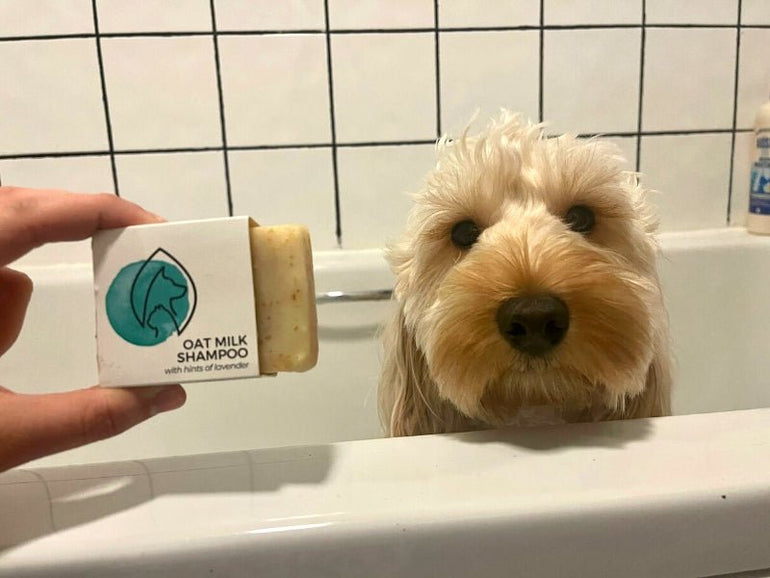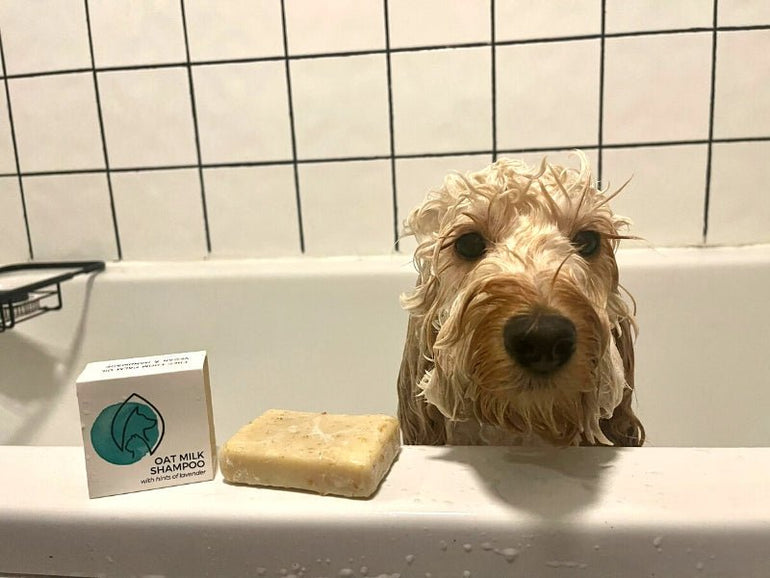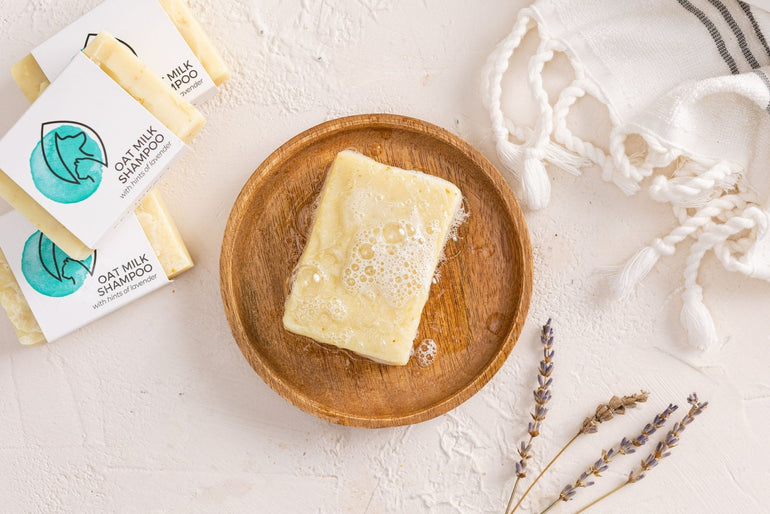 Plastic-free Oat Milk Shampoo
£6.99
Regular price
£7.99
off
A handmade shampoo bar that helps keep our oceans free from plastic, while keeping your dog looking and smelling amazing.
Once you try our shampoo and conditioner bars you'll never go back to bottled! Our luxury oat milk shampoo bar detangles and moisturises, without the toxic plastic. The bar formulation allows an effortlessly even distribution of shampoo across the coat making bath times a breeze.
They're handmade in small batches in the UK. Made with premium human-grade ingredients, such as organic Oat milk, which well known for soothing sensitive and irritated skin and will make your dog's coat feel and smell incredible.
Whilst most doggie shampoos are bottled in plastic, ours comes in a simple FSC certified recyclable sleeve meaning guilt-free bath times and less plastic on our planet.
Choosing plastic-free shampoo and conditioner is one the quickest and surest ways to reduce your pet's plastic pawprint, potentially saving up to 48 plastic bottles over their lifetime. So why not start now and give our shampoo bar a try!
This shampoo bar stops 10 plastic bottles from entering our oceans.
Find out more below.
No plastic in sight. Our sleeve is FSC certified cardboard that can be recycled or composted. Our natural ingredients will naturally biodegrade when rinsed away, leaving no trace.
Enriched with oatmeal and coconut to sooth dry, itchy, and irritated skin. Helps remove dirt and grease whilst nourishing sensitive skin and moisturising the coat, giving you that professional groom finish.
Free from artifical chemicals, preservatives, fragrances, parabens, SLS and sulphates. This is important for our environment but also our dog's skin, because their skin is much thinner and more sensitive than a human's.
Vegan, Cruelty Free & No Palm Oil
---
Plastic-free Oat Milk Shampoo
£6.99
Regular price
£7.99
Sustainability
Our shampoo bars are handmade in small batches in Cambridgeshire, UK.
They are 100% plastic-free and come with a small FSC cardboard sleeve that you can easily recycle.
They are lovingly made with natural biodegradable and organic ingredients meaning no nasty chemicals hanging around in our environment indefinitely!
They are free from artificial fragrances, SLS, parabens and palm oil - it doesn't get better than that!
How to Use
Brush your dog to allow for easier wetting of all of their fur.
Fully wet your dog's fur with water.
Use the bar of shampoo to work up a lather all over your dog. You can comb through the fur again to make sure all areas are well covered with the shampoo. Please take care around the eyes.
Rinse thoroughly with warm water.
Our shampoo pairs up perfectly with our natural conditioner bar. So if your dog's coat is extra knotty, we recommend following up your shampoo with conditioner to work out the tangles and leave their coat unbelievably shiny and soft! Follow the same steps of rubbing the bar all over, brushing, then rinsing thoroughly with warm water.
Let your dog help you by shaking off the extra water! You can once again comb through the fur as it dries to help remove any loose fur and have your dog looking their best.
Optional step: You can also try an acid rinse spray which helps balance the alkaline pH of the shampoo, leaving the fur super soft!
Mix a couple of tablespoons of apple cider vinegar with 500ml of warm water.
After shampooing your dog, pour the mixture over their fur evenly, working it in with your fingers.
Let it sit for a couple of minutes.
Rinse it out. Don't worry, the smell of vinegar will fade once fur dries!
Ingredients
Organic Olive Oil, Organic Coconut Oil, Organic Oat Milk, Aqua, Sweet Almond Oil, Neem Oil, Castor Seed Oil, Glycerin (Naturally occurs), Organic Oat Kernel Flour, Lavender Essential Oil, Peppermint Essential Oil. Geraniol*, Linalool*, Limonene*. *Occurs naturally in essential oils.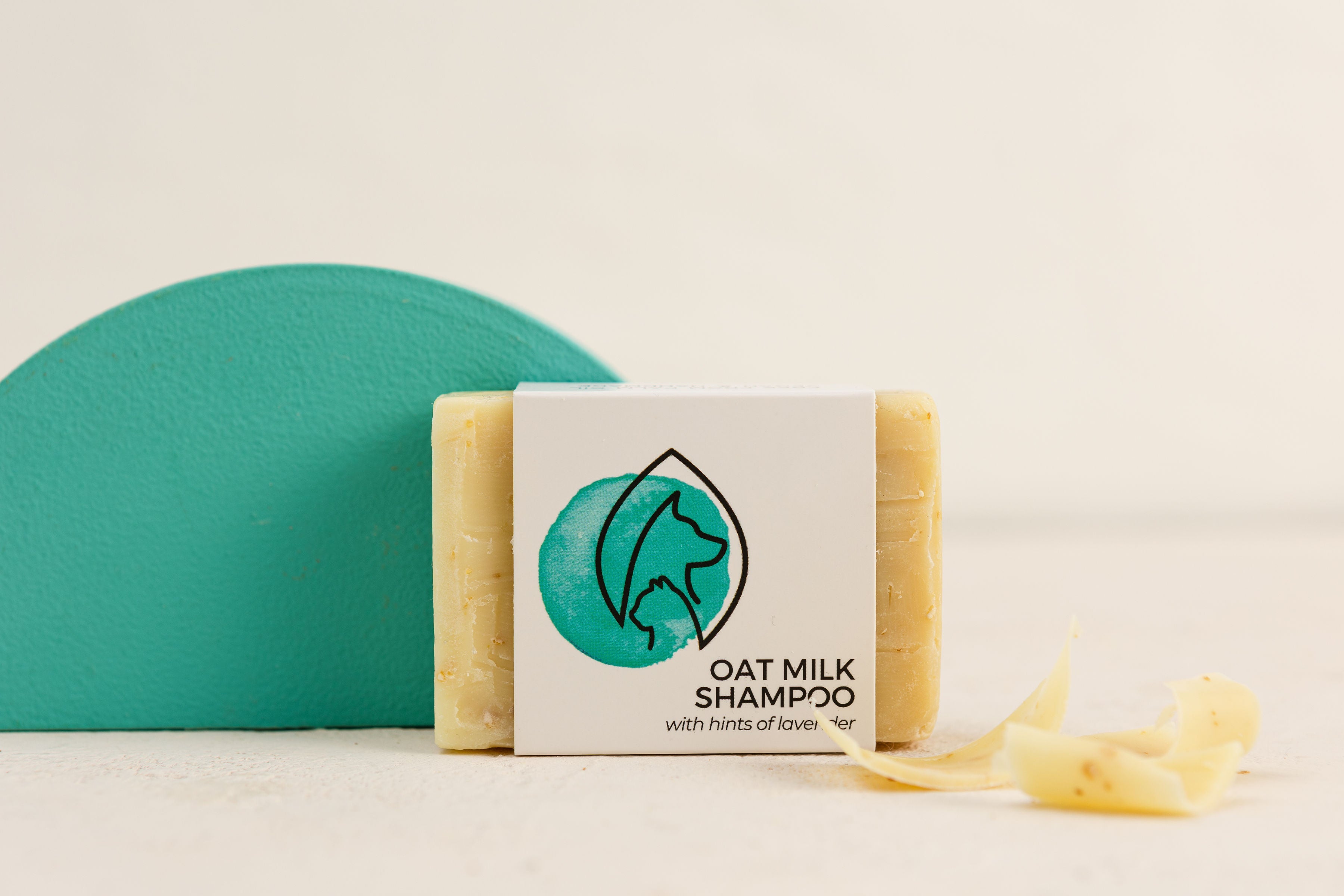 Pairs with our conditioner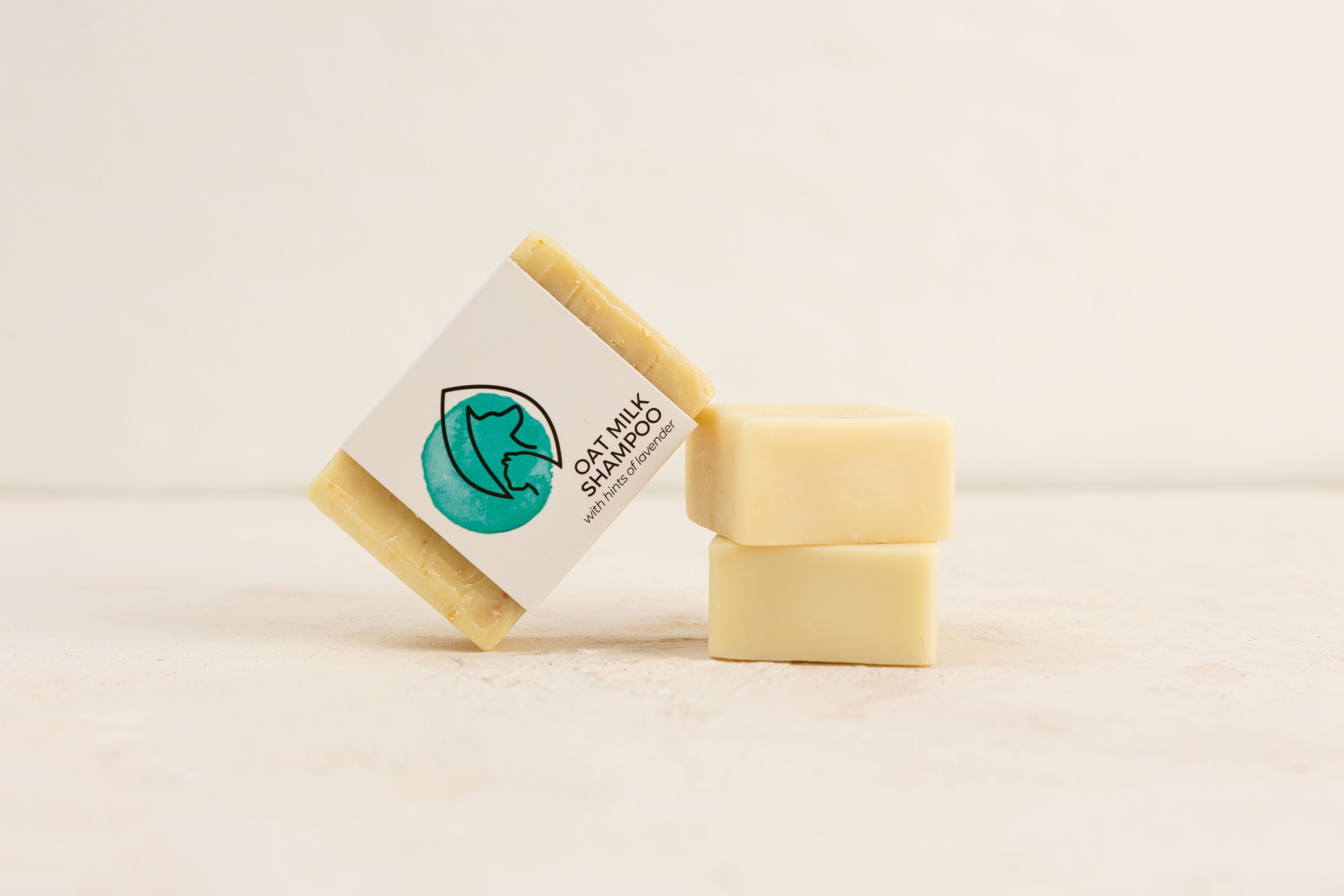 A handmade organic shampoo that is wonderfully gentle on your pet's coat and skin.
These long lasting shampoo bars are crafted from human grade ingredients. They are perfect for sensitive skin and cleanse without drying the coat. We love how easily they allow an even distribution of shampoo throughout the coat, unlike bottled shampoo which often concentrates in one irritated spot!
excellent shampoo bar
Gets my dog's coat nice and soft, very gentle on his sensitive skin and he seems comfortable after a bath. Smells amazing. And no plastic waste - all round winner