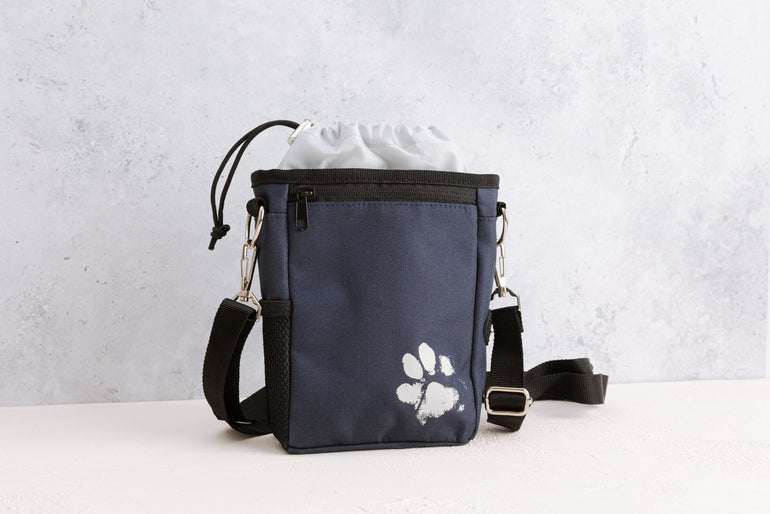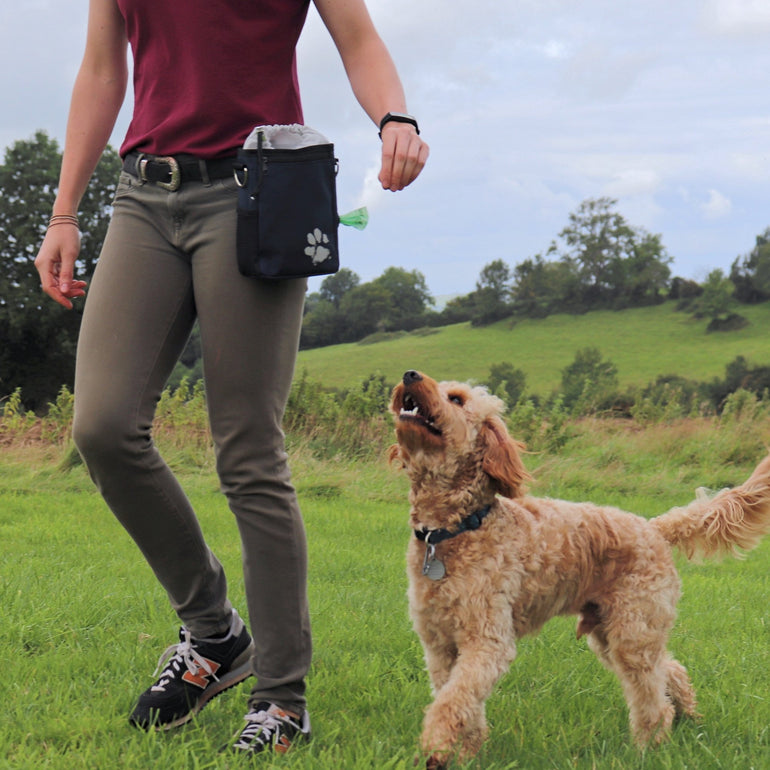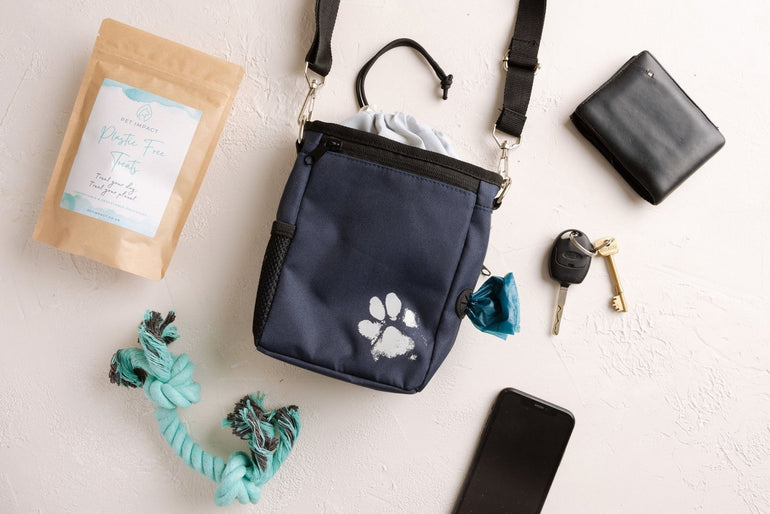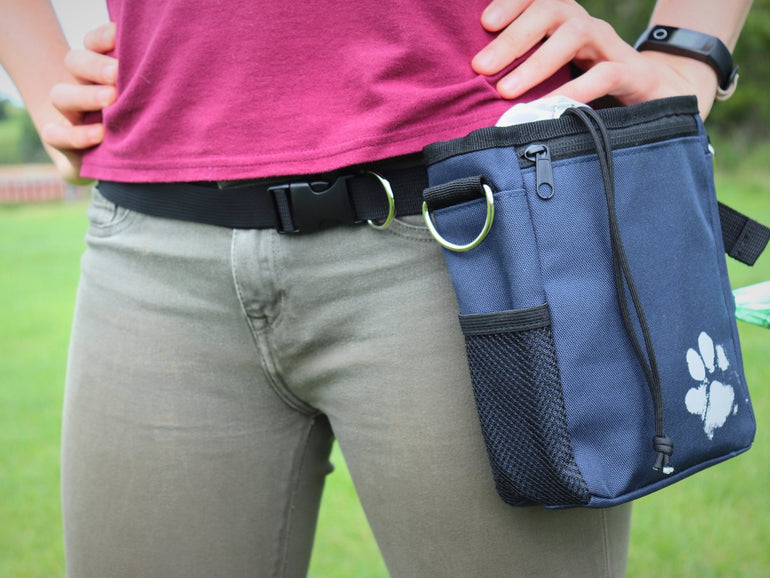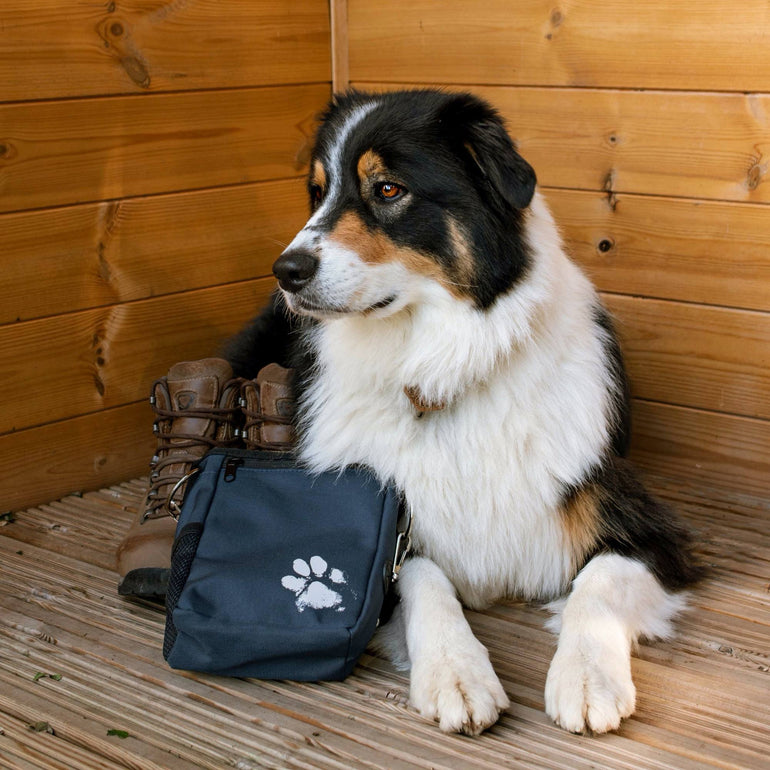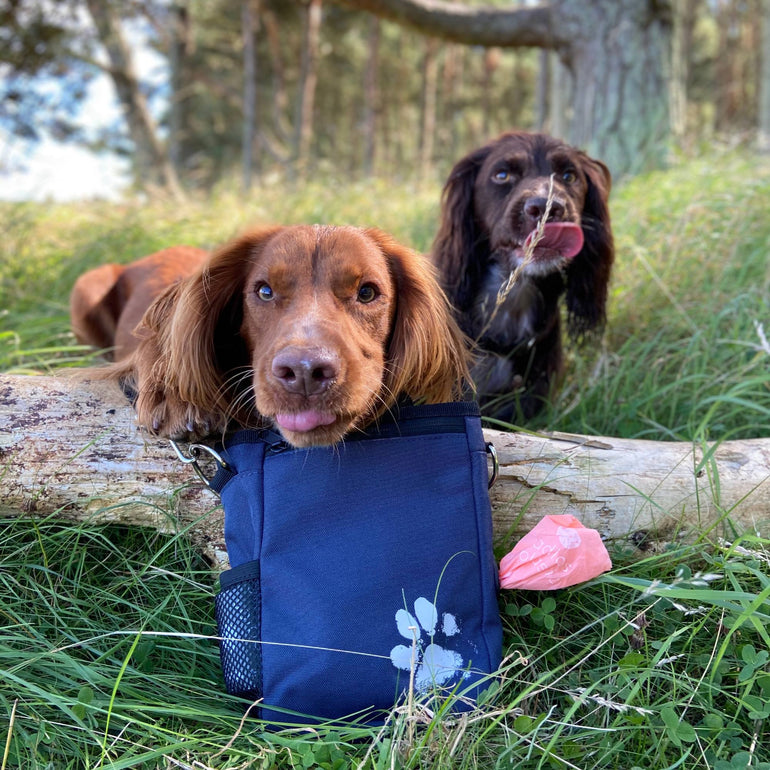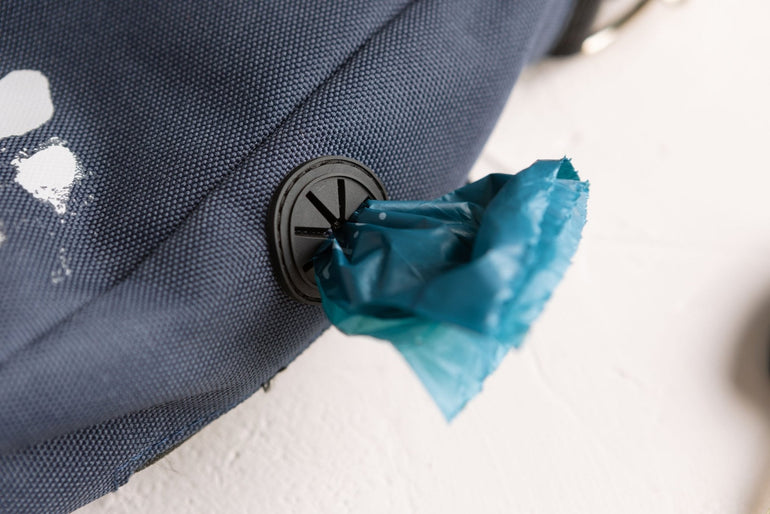 Recycled Treat & Dog Walking Bag
£19.99
Regular price
£22.99
off
Dog walking, made simple. Dog training, made effective.
All while reducing waste on our planet.
Have everything you need for an enjoyable and hassle-free dog walk in one bag.

Free your coat pockets of messy treats, loose poo bags, and grubby toys!

Large central compartment to hold sufficient treats for quick retrieval and prompt positive reinforcement to optimise training.

Offering generous different compartments to hold essential items, a water-resistant exterior, a secure drawstring and button-down closure.

Made with fabric from old plastic bottles (Recycled Polyethylene Terephthalate) that is certified by the Global Recycling Standard.
Wear it in your own style - 3 ways to wear your bag:
1. Across your body or over your shoulder with an adjustable shoulder strap.
2. Around your waist with an adjustable waist strap.
3. Remove the waist and shoulder straps, simply clip it onto your belt.
---
Each bag stops a further 50 plastic bottles from entering our oceans.
Find out more below.
Recycled Treat & Dog Walking Bag
£19.99
Regular price
£22.99
Hello organised and easy dog walks!
Goodbye dirty, heavy coat pockets full of random dog items (with bits of grass, dried saliva, etc...)
Our recycled walking bag is specifically designed to meet the needs of dog owners.
Simply grab and go with peace of mind that you haven't forgotten anything!
Compact and lightweight, yet packed with multiple compartments, including a custom poo bag dispenser. This unique bag is made of water resistant RPET fabric (Recycled Polyethylene Terephthalate) meaning you help reduce the amount of plastic waste on our planet with this bag!
Description
Dog walking, made easier.
A bag that is spacious enough to carry your dog-walking essentials without being cumbersome.
1. Convenient, easily accessible compartments helping keep you organised
2. No more last minute rummaging around the house for items - everything is in this one pouch!
3. Carefree walks without dropping and losing items from your pockets
Dog training, made effective.
1. Large opening allows quick and easy treat retrieval for positive reinforcement and better training outcomes
2. Dual compartment allows for treat variation (regular v.s. high value treats)
3. Metal rings to attach clickers and pockets to keep whistles
Specifications & Compartments
Size: 20cm x14 cm x 7cm.
Shoulder strap length: 150cm in total, i.e. 80cm from shoulder to top of the bag itself (so measure 80cm from your shoulder down - that's where the bag will sit).
Waist strap up to 150cm.
You can easily remove and re-attach waist or shoulder straps according to preference.
Strong clip on back to attach to belt.
Two metal D rings allow you to customise your bag by clipping on any accessories e.g. clickers, panic alarms or poo bag holders. Or, if your poo bags have handles, you can use the D rings to tie on your full poo bags until you reach a bin.
Made in Shenzhen, China.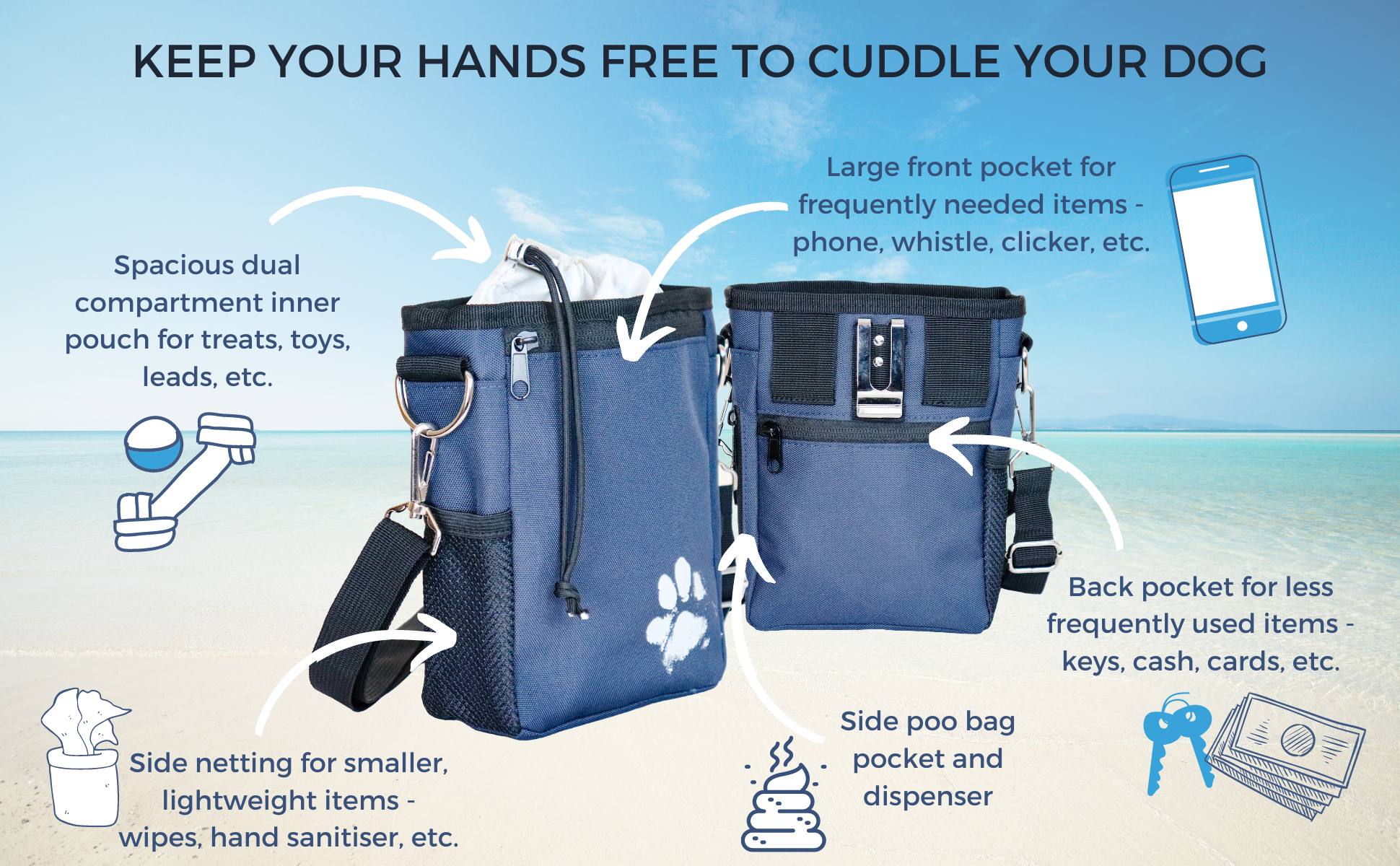 Compartments: Two large inner compartments. Two (front and back) zip compartments. One small outer mesh side compartment. One poo bag dispensing compartment.
Sustainability
How you and your pet are helping our planet:
Proudly crafted with fabric made from old plastic bottles - RPET fabric (Recycled Polyethylene Terephthalate) and certified by the Global Recycling Standard.
Recycling not only reduces the amount of plastic waste accumulating in our oceans but cuts carbon emissions by up to 79%!
We have replaced plastic buckles with sturdy metal ones.
Ethically made in a socially and environmentally responsible BSCI compliant manufacturer.
Packaged in a compact, plastic-free, fully recyclable cardboard box.
Stops 50 plastic bottles from entering our oceans.
What do we need to improve on?
While the bulk of the bag is made of RPET fabric, there are still parts of the bag (straps, buckles, clips, zip) that are not made of recycled materials. We will keep pushing to use more recycled materials to make this bag.
These are currently manufactured by our partners in China due to cost and the availability of raw materials and expertise. We are finding ways to have them manufactured closer to home while staying affordable for pet owners.
Frequently Asked Questions
Is there a place for used poo bags?
We wouldn't recommend putting full poo bags into the main compartment as that is best reserved for treats, but you may tie the handles of your poo bag to one of the two metal D rings until you find a poo bin.
Will this fit a water bottle?
The bag would only fit a small water bottle - it might stick out the top as the bag is only about 20cm tall. The bottle will go into the one of the two middle main compartments, so it would mean that it takes up one compartment that would usually be for treats!
Is it easy to clean the inside compartments?
Yes! The bag can be easily machine washed if it gets mucky inside.
But we recommend putting moist or smelly treats inside paper bags for an extra layer of protection and to keep the bag clean for longer. Our natural, plastic-free treats fit inside perfectly.
Is it waterproof?
The fabric is water resistant and will keep your essentials dry in light rain. In heavier downpours we recommend using the belt clip, allowing you to keep it beneath your raincoat.
Secure the Goodies
Drawstring shuts central pouch to keep treats dry.
Additional button closure prevents items from falling out when bending down or in case of slips or falls on muddy walks!
Spacious Dual Compartment = More Choice
Have the option of holding different treats or using one side for other items!
Inner pouch can be exteriorised for easy cleaning.
For British Weather!
Water resistant exterior to protect your valuables!
The top part of the bag is still vulnerable to rain, keep it under your coat if it's heavy rain!
Poo Collection Made Easy
Never forget a poo bag ever again!
Store rolls in a custom poo bag compartment, pull out single bags as needed for easy and efficient poop picking.
For Life in Our Oceans
This dog walking bag belongs to the Oceans Impact Sphere.
On top of using recycled plastic to actually make the bag (RPET fabric), each bag funds the collection of a further 50 ocean-bound plastic bottles to stop plastic pollution.
This is done through our collaboration with Ocean Co.
Find out more about your dog's legacy and Impact Spheres here.
Great bag
a sturdy and attractive bag, I love the belt clip as an alternative to the shoulder strap
How have I had dogs and never this little piece of perfection?
I honestly cannot express how useful this is. I never have to worry about going out on a dog walk without treats, poo bags, hand sanitiser, lip balm and cheeky sweets! There are so many great design features, like the hole for poo bags to just pop out off the roll, and the popper to keep the inside shut while treats are not required (for Zach or for me). Seriously, I can just grab this and everything is right there. Spare poo bags in case the main one runs out, too. Thanks for introducing me to it!
Excellent find!
This is a great bag, with so many pouches and I love the multi-way strap. Makes it so much easier to carry everything, and ensures I don't forget anything!
Great bag!
I love this bag, functional and smart. Perfect for my walks with my best boy 😊 highly recommend
daily accessory
I adopted my dog 3 months ago and he needs lots of training. I thought I can hand out couple of treats from my pocket, but it was messy and didn't go as expected. finding a good treat bag took me ages, but luckily I found this and I cannot thank enough of the people who made it...
it feels like a very good quality and I love the two inside compartments for different value treats. I find a little downside here, that if you add more on one side, then it's harder to access the few treats on the other side, but it's not a big deal.
I love hat it has so many other pockets- my phone is always in the front one because it's so easy to access. I have tissues in the mesh pocket and spare poo bags in the back pocket.
poo bags come out of the side very nicely, but if you use the bulky adios poo bags, then it is a little hard with first few.
I always have it around my belt area, sometimes clipped to my backpack or belt- the strap is very handy when you have a jacket and can't clip to your jeans. I haven't used the long over-the-shoulder one because I would find it in a way when I bend down, but some people might like it that way.
the bag is always open, because I need to hand out treats all the time, so I don't use the string at all. maybe a magnet would be a better idea.
this is definitely a part of my daily life and I even use the bad in the office, when going shopping, out with friends etc etc... best investment ever.