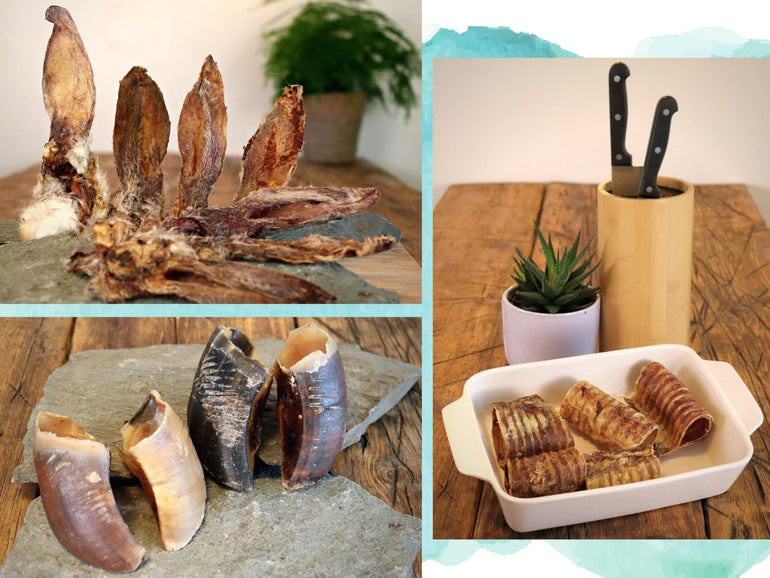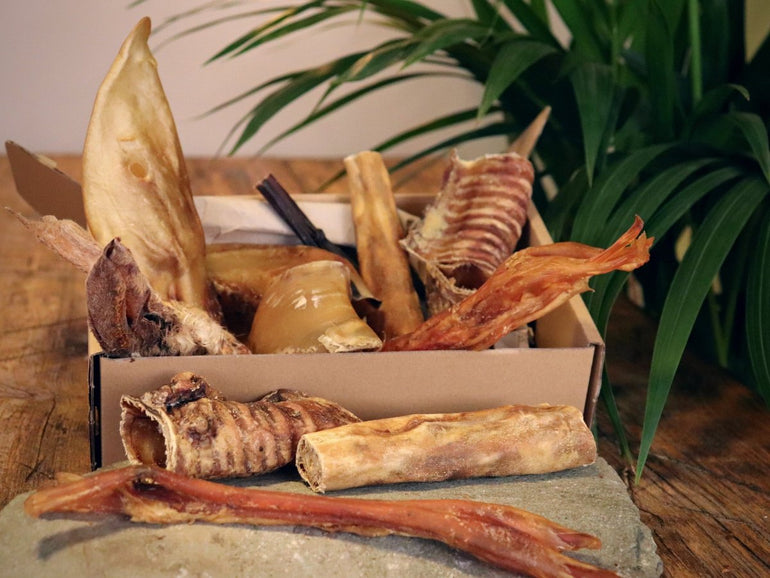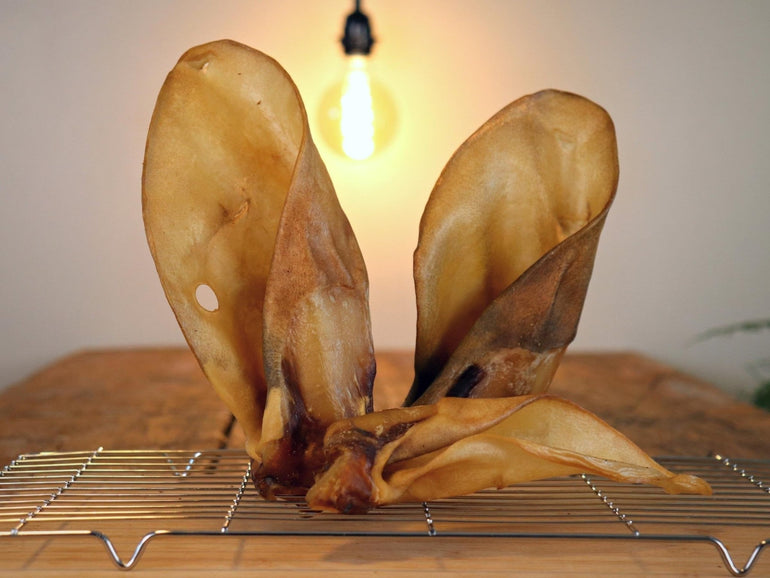 Natural Chew Value Bundle
Long lasting tasty chews for your dog's enjoyment!
A peek into your dog's box:
(items may vary due to stock availability)
Two Rabbit Ears (with fur)
One Large Beef Ear
Two Large Pieces Beef Trachea
Paddy Whack (cow neck ligament)
Beef Hooves
One Large Pig Ear
One Beef Tail
Beef Skin
---
Each box contributes to reforestation projects, such as the restoration of natural woodlands in Scotland to protect native species such as the red squirrel.
Find out more below.
Sustainability
Over 90% of our chews are sourced from the UK, the rest within the EU. The chews are technically offal or otherwise known as 'by-products' from the meat industry. These products make fantastic long-lasting natural chews and would otherwise be thrown away, generating a lot of waste.
Many people recognise that reducing meat is one of the best things you can do to combat climate change, however studies have shown that replacing muscle meat for organ meat can also cut greenhouse gas emissions, such as methane from agriculture by 14%. Therefore, they concluded that reducing meat consumption and utilising this often-wasted food source are two the biggest things we can do to significantly reduce our emissions from farming.
Packaging - Our cardboard boxes are made with 40% recycled content. Our tape is also 100% plant-based (including the adhesive) and fully recycable or compostable with the cardboard box - no need to separate. Even our circular Pet Impact labels are made from FSC recycled paper with plant-based non-toxic inks and can be recycled or composted.
Our Plastic-Free Treats are packaged in paper bags that are compostable with a starch-based resealable zip lock to retain freshness!

Contributes to rewilding & reforestation projects through Mossy Earth.
Ingredient List
Please note that this list shows all the different treats and chews available on our site, and not just the ones in your box. Please refer to the contents of your box above for further reference.
Training Treats Poultry - 80% Poultry. Grain Free. No Additives
80% Fresh and Cooked Poultry (33% Chicken, 29% Duck, 18% Turkey), Potato, Chicken Gravy.
Analytical Constituents: Crude Protein 30%, Crude Oils & Fats 18%, Crude Fibres 2%, Crude Ash 7%
Training Treats Fish - 80% Fish. Grain Free. No Additives
Composition: 80% steam cooked fish (43% Salmon, 23% Trout 12% White Fish, 1% Salmon), Potato, Sweet Potato. Analytical Constituents: Crude Protein 25.5%, Crude Oils & Fats 15.5%, Crude Fibres 2%, Crude Ash 10%.
Hand Baked Crunchies
Wholemeal flour, oatmeal, eggs
+ chicken, peanut butter, or cheese depending on flavour
Sausage Bites Chicken
Ingredients: 70% Chicken, Rusk, Minerals.
Analytical Constituents: Protein 20.8%, Oil 20.1%, Fibre: 0.9%, Ash 5.9%, Moisture 16.2%
Sausage Bites Venison
Venison 30% Beef 20%, Chicken 20%, Cereals, Minerals.
Analytical Constituents: Protein 20.8%, Oil 20.1%, Fibre: 0.9%, Ash 5.9%, Moisture 16.2%
Fish Skin Cubes - 100% fishskins
Analytical constituents: Moisture 7.13%, Fat 2.56%, Crude Protein 87.8%, Ash 11.7%, Crude Fibre 1.0%, Nitrogen 14.7%. Nutritional analysis (per 100g): energy (kCal/100g) 374, Energy (kJ/100g) 1586
Roast Lamb - 100% pure lamb
Composition: lamb. Analytical Constituents: protein 66%; oil&fat 22.5%, crude fibre 1.5%, crude ash 3%, moisture 7%
Liver Sausages
Beef 30%, other meats 40% (chicken and beef), beef meal, minerals, permitted preservatives
Protein 22.8%, Oil 10.1%, Fibre 0.5%, Ash 7.6%, Moisture 16.2%
Chicken & Turmeric Sausages
Chicken 80%, Beef Meal, Turmeric Paste, Minerals
Dried Sprats - 100% sprats
Pure Salmon Sticks - 100% Salmon
_
*Chews are 100% natural with not further additives
Hygiene Advice
For the handling and feeding natural chews and animal parts:
(while some are air dried, please treat such chews and treats in a similar way to raw food)
-
Taking excellent hygiene precautions is essential for the safe feeding of raw diets.
Hand washing should commence:
- After food preparation
- After touching the pet
Preparation areas and surfaces should be cleaned with disinfectant immediately after food is prepared.
Clean food bowls should be used for each meal.
Bowls, floors and utensils should be disinfected immediately after feeding has finished.
Bowls or plates for pet use should be kept separate from the ones used by the owners. Washing of bowls and plates alone is not enough to eliminate bacteria such as Salmonella 53.
Correct storage of foods will reduce the cross-contamination risk:
- Any uncooked meats should be refrigerated in a sealed container
- Uncooked meats should be stored away from human food (i.e. at the bottom of the refrigerator or, ideally, in a separate refrigerator – although this does not appear to be a contributing factor to the incidence of infection according to a recent study).
Care is needed when handling pets and areas that the pet has contact with, especially areas used for elimination:
Studies have shown that pets infected with pathogenic bacteria can shed them into the environment 22. Therefore, the following precautions should be observed:
- Wear gloves or wash hands immediately after any handling or contact with urine or faeces
- Swift disinfection of areas within the home where inappropriate elimination has occurred
- Fastidious clearing or cleaning of elimination areas within the owner's garden
- High general levels of environmental cleanliness and regular washing of bedding are also advisable, although further work is needed to ascertain whether washing would be sufficient for pathogen removal
- Consideration should also be given to taking dogs to public areas, which may be difficult or impossible to clean
Method of feeding:
Due to its high moisture content and potential for pathogenic contamination, it is not advisable to feed raw diets on an ad libitum basis. As with any food, an appropriate daily ration (based on the maintenance energy requirement of the dog or cat) should be fed in meals, with uneaten food being removed after 30 minutes, disposed of and never reoffered to the pet.
(taken from the british small animal veterinary association guide to nutrition: raw diets).
For Life in Our Forests
This treat/chew box belongs to the Forests Impact Sphere.
On top of reducing packaging and waste, 10% of profits from each box goes to reforestation and rewilding projects, such as restoring a healthy woodland understory at 3 different sites in Scotland.
This will develop richer, more resilient native woodland habitats for local species to flourish.
This is done through our membership with Mossy Earth.
Find out more about your dog's legacy and Impact Spheres here.
chewy goodness
my 2y/o newly rescued dog goes through them so fast! he absolutely loves every single bit and has no issue with any of them. the only super stinky ones are the hooves! they smell super appallingly, so he MUST eat them in the garden. I need this box pretty much every month, really good quality :).
Great value for money and a great selection.
Great selection of choice and had plenty of chews for both of my dogs. Size of chews were generous and the right size for my medium/ large size dogs (not too small like other company's).Will definatly buy again and have recommended to clients who also feed their dogs natural chews. Thank you
Different!
Unfortunately my dogs only liked 2 of the chews the rest they sniffed and left them , I think the ones still with fur on them were a turn off for them and me also to look at .
My god loves it
Super sturdy. My dog usually chews things super fast but this ones take him longer. Super happy with it
Dogs loved it
Great value for money my dogs love these tasty treats !!