Celebrate reducing your dog's environmental pawprint!
1. Add ReSEAcled Poo Bags to cart.
2. Scroll down to add Artisan Hand-Baked Crunchies to cart.
3. At checkout, insert code FREETREATS to zero the cost of your treats!
*Only for first orders of poo bags. One pack of free treats offered.
Cannot be combined with other discounts.
Free shipping over £35 still applies.

Hurry - this offer is limited to stock availability!
Description

FAQs

Why ReSEAcled?
The world's first Plastic Negative poo bags that save ocean-bound plastic.
Award winning eco-friendly poo bags designed for general waste and dog poo bins.


Made from 50% recycled HDPE plastic (e.g. old shampoo and milk bottles) and 25% natural oyster shell waste, certified by the Global Recycled Standard.


Certified Plastic Negative by rePurpose Global.
Each poo bag funds the collection and recycling of one ocean-bound plastic bottle through Pet Impact's partnership with Ocean Co. This equates to removing 5 times more plastic from nature than used in the poo bags, giving them (and you!) a Plastic Negative footprint. 


Waste-based poo bags are better for our planet.
Stop creating new waste by choosing poo bags that re-use it! Reusing waste has clear evidence-based benefits, such as cutting carbon emissions, reducing energy use, conserving scarce resources and minimising waste sent to landfill and incineration. 


Putting a sustainable waste stream to better use.
Oysters are widely considered a sustainable food source, but millions of tonnes of waste shells are landfilled every year. Adding waste shells to poo bags reduces the use of fossil fuels and improves the sustainability of the aquaculture industry. Processing the shells also provides a livelihood for local communities. 


Guided by science, not market trends.
Compostable and biodegradable poo bags do not reliably breakdown as claimed, still contribute to microplastics and can be just as bad, if not worse, than normal plastic - especially if not disposed of correctly (i.e. in compost). Learn more below.
Are these bags biodegradable?
No. But research shows that even 'biodegradable' plastic does not biodegrade in the real world! Nothing properly biodegrades in landfill either, which is sadly where they'll likely end up! But since these bags are made from waste that was already destined to go to landfill, you're helping reduce the amount of new waste going there.
Should I buy these if I compost my dog's poo?
No, if you compost your dog's poo you are better off without any poo bags or using certified home compostable poo bags.
How thick are they?
15 microns thick.
Where should they be disposed?
General waste at home or dog poo bins. While they are technically recyclable, they cannot be recycled due to their contents!
What can we improve on?
The bags use 25-30% virgin plastic. We have experimented with 100% recycled content but unfortunately the strength and quality were compromised. We are working towards 100% recycled content in the future.
However, these current bags are still better than compostable/biodegradable bags that can include 50-80% virgin fossil fuel based plastic (PBAT) or non-recycled bags.
While not perfect, until we have the infrastructure to compost dog poo on a large scale and biodegradable poo bags that are genuinely made of sustainable materials, we believe these ReSEAcled Poo Bags are the least harmful option for our planet.
Reducing waste going to landfill & incineration: Instead of making new plastic from virgin materials, we re-use waste that was already destined for landfill and incineration, meaning less new waste is sent there.
-
Smaller carbon footprint: Recycling plastic requires significantly less energy and produces significantly fewer carbon emissions during production.
-
Sustainable renewable content with a social impact: Every year, millions of tonnes of oyster shell waste is thrown away. We're giving it a second life! Unlike plant-based plastic, oysters are widely considered sustainable as they're vastly less resource intensive, don't require GMOs and don't compete with human food production or contribute to deforestation. Processing the shells also provides a livelihood for local communities.
-
4. Reducing plastic pollution: There's no need to create new plastic when we're struggling with so much of it!
---
---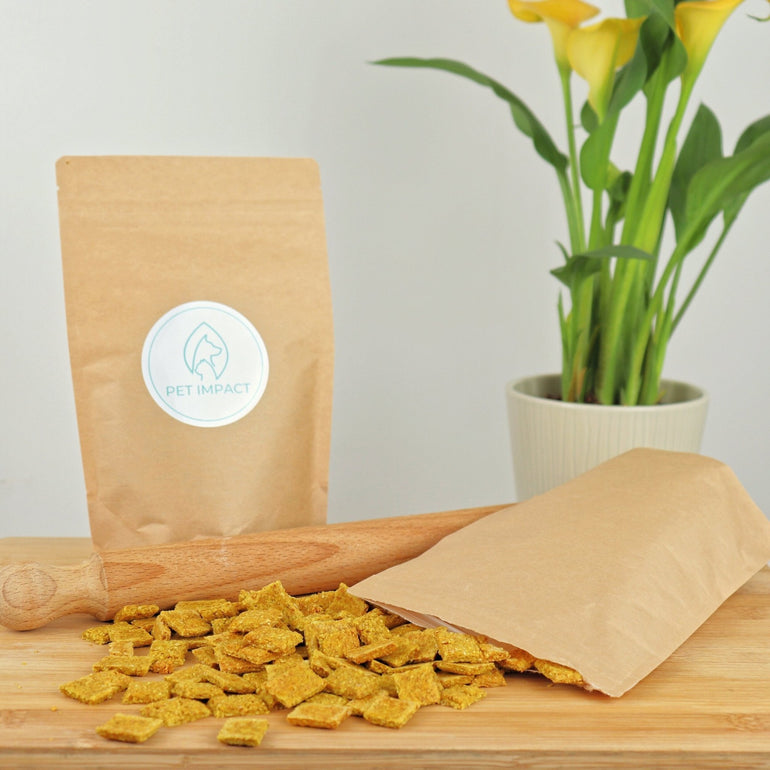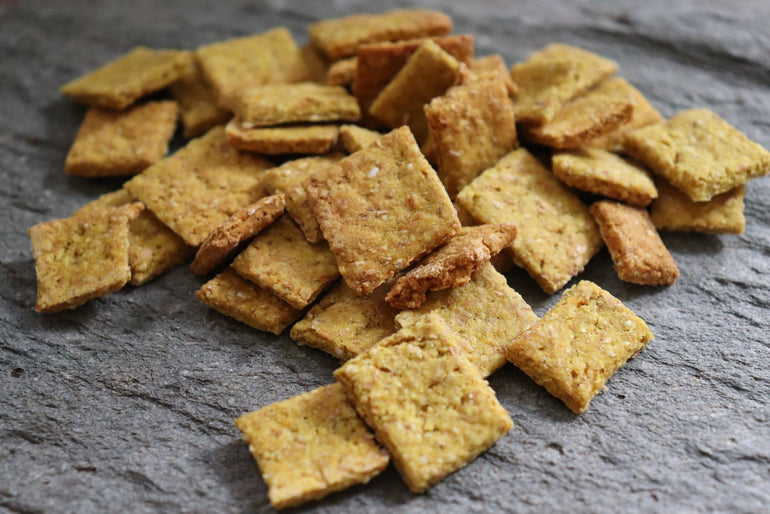 An all natural treat you could literally share with your dog.
Hand-baked, deliciously healthy treats with zero processed ingredients or added preservatives and artificial flavours.
Nice and crunchy, made in a boutique specialist dog bakery in Scotland! 

Packs of 100g
Ingredients: Wholemeal flour, oatmeal, eggs + chicken, peanut butter, or cheese depending on flavour
Let customers speak for us