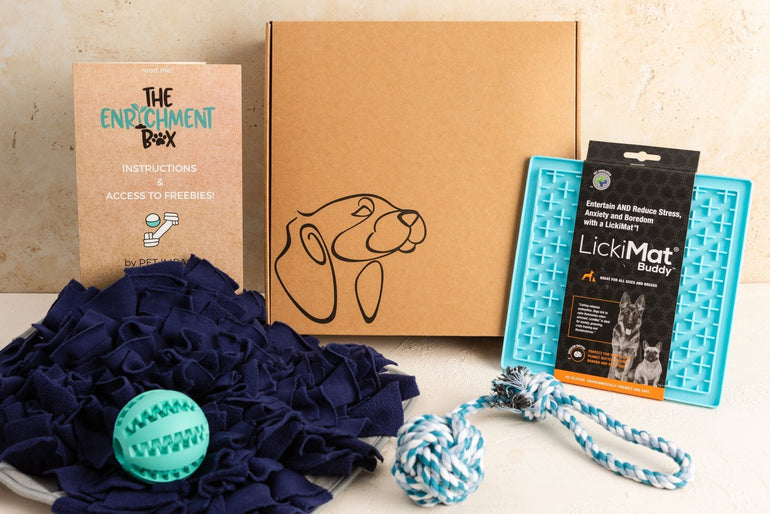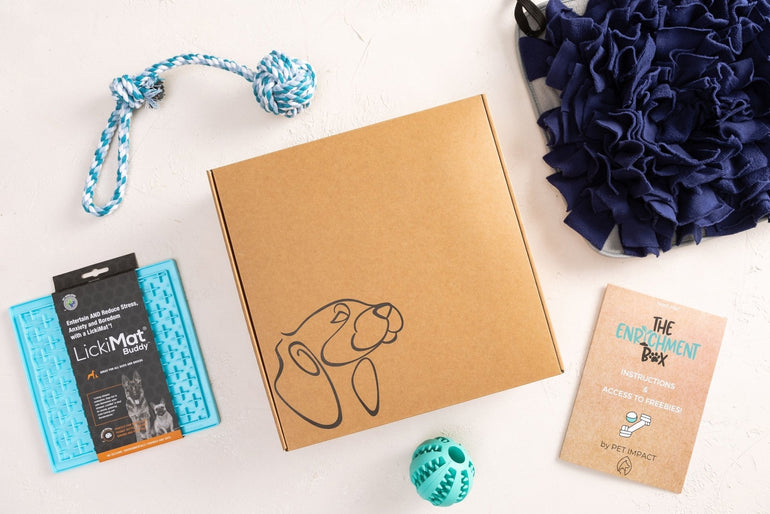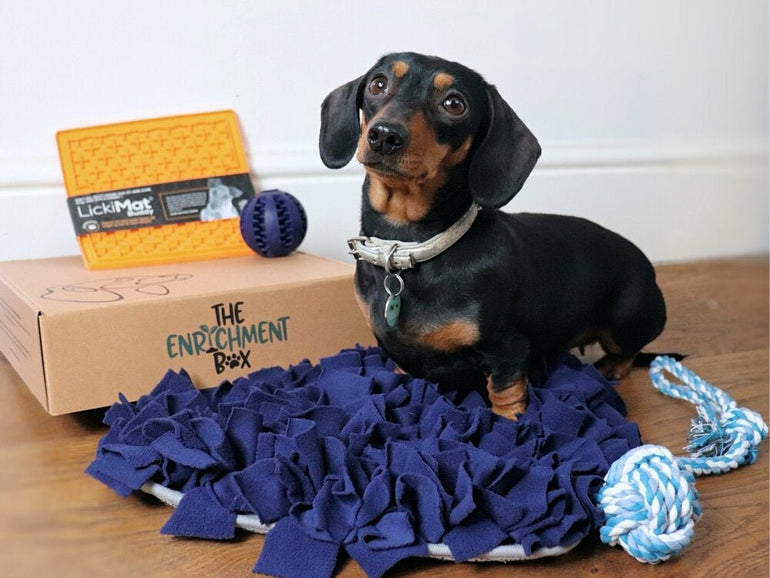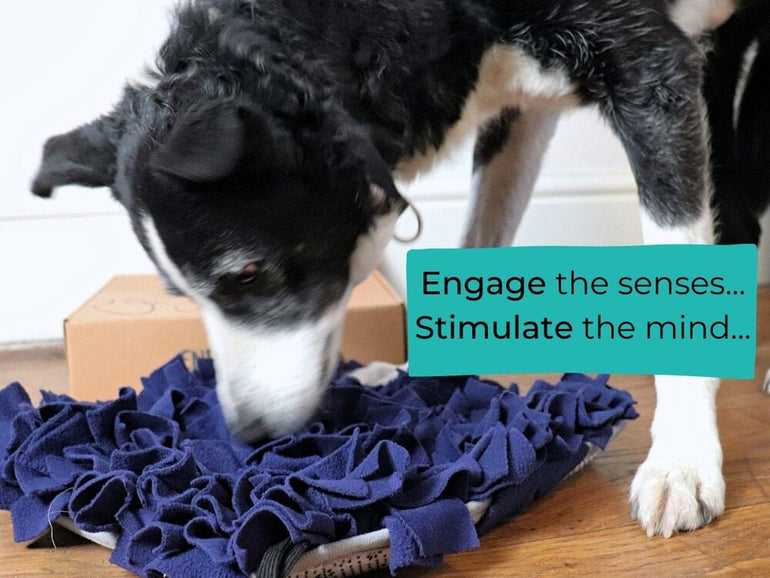 £19.99
Regular price
£27.99
off
Boost your dog's immediate and long-term happiness and wellbeing with the best value Enrichment Box on the market
A variety of plastic-free interactive toys to improve your pet's emotional and physical wellbeing, while giving you significant cost savings. 

-
What is enrichment and why is it so essential?
Simply put, enrichment is anything that stimulates a dog's mind, engages their senses and encourages natural species-specific behaviour. Enrichment can be physical, sensory, social or nutritional. 
Enrichment builds confidence, increases happiness and reduces stress, boredom, 
frustration and 
the likelihood of developing aggressive or destructive behaviours, 
making life better for both of you!
---

Hide treats within this layered mat to allow your dog to express their natural foraging behaviour and engage their most powerful and important sense - their sense of smell. A recent study showed that scent work can actually increase a dogs' 'positive judgment bias' i.e. optimism, thereby improving their overall welfare and emotional resilence!

Smear some healthy wet dog food or a cheeky spoon of peanut butter to keep your dog busy. The act of licking releases endorphins and dopamine in a dog's brain making it a highly enjoyable experience.
Stimulate your dog's mind and engage their intricate problem-solving skills with this nifty treat ball. In humans, slow eating allows time for the taste and texture of food to be registered by the brain, increasing overall enjoyment as well as directly improve digestion.

Express your love by playing a game of tug with your dog! Social play such as this has been shown to increase bonding and strengthen the relationship between human and doggy companion.
---
This Enrichment Box helps prevent climate breakdown through action in support of ethical banking.
Find out more below.
The Enrichment Box
£19.99
Regular price
£27.99
Frequently Asked Questions
What size dog is the box suitable for?
The toys are best for small to medium sized breeds.
Can you machine wash the toys?
Yes, you can machine wash the rope toy and snuffle mat. The treat ball is best washed by hand but the Lickimat can go in the dish washer!
Dimensions
Likimat: 20cm by 20cm and comes in blue, green or purple.
Snuffle mat: 30cm x 30 cm
Treat ball: 7cm diameter
Rope tug toy: 7 diameter ball
Sustainability
Our box contains zero plastic packaging or toys. The cotton rope toy is made with 50% recycled cotton. The snuffle mat is made with polyester (with our next batch being 100% recycled polyester!). The LickiMat is made from recyclable natural rubber and recyclable TPR (Thermo Plastic Rubber) that is a human grade product. The treat ball is also 100% natural rubber.
The components of the box are made in China and shipped via sea for us to put together.
Get ready to enrich, engage, and entertain your dog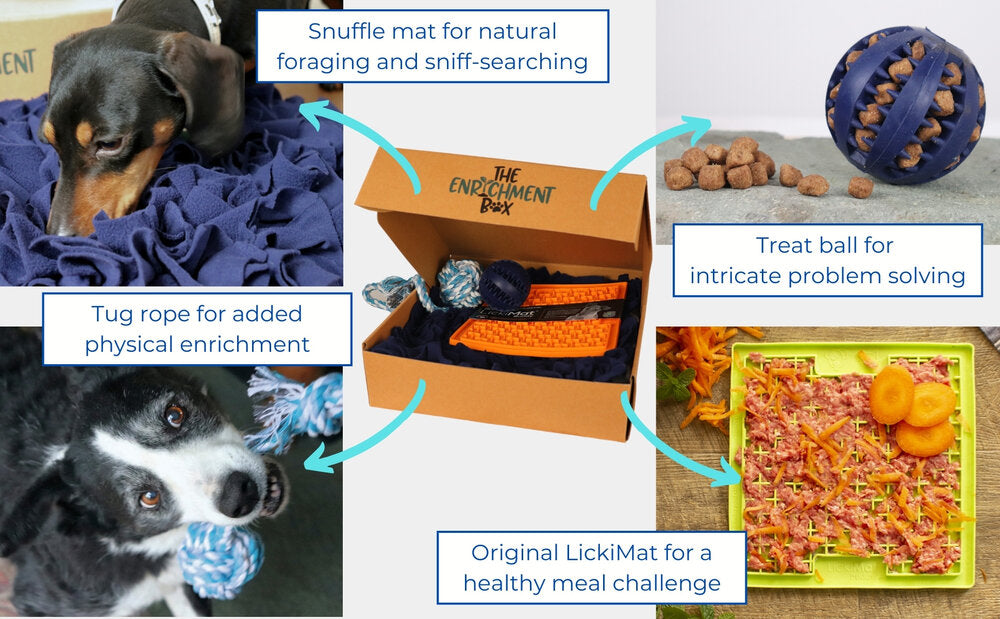 For Our Changing Climate
This Enrichment Box belongs to the Climate Impact Sphere.
It comes accompanied with a simple step by step guide and our personal support so you can:
1. Find out if your bank is funding climate damaging corporations (e.g. fossil fuel companies).
2. If so, learn how to look for an ethical bank instead.
3. Seamlessly and easily switch to an ethical bank (changing banks is not as tedious as you think)!
*we are in the process of finalising this guide and the added support - this will be available soon!
Find out more about your dog's legacy and Impact Spheres here.
using this daily!
so the main reason why I ordered the whole box was the snuffle mat. I read mixed reviews about the quality of products, but I think the problem is not in products, but in the users :D.
the snuffle mat is used daily for breakfast or dinner and my dog doesn't move it anywhere, so no need to tie it down, but the strings are a good idea for some dogs.
he doesn't eat much of canned food or peanut butter, but if I have any, then he uses the licky mat, which is also very fun, but definitely no fun cleaning it if you don't have a dishwasher. however, if it's licked well and left to soak a bit, then there is no much issue...
we don't play much tug of war, but when we do, he likes the loop part of the rope toy if he is in the mood for a game.
the feeding ball is quite a hit and is super durable. it suits treats and little kibble, not big dry dog food though. luckily he doesn't chew on the ball after the use, but my guess is, that it would stand some heavy chewing.
overall, £20 is a really good price for these product, they are all very high quality.
Great value
Really great products!! Unfortunately my beagle chewed the lickimat within mats of having it - so think I need one made from corrugated iron! The ball is a bit too time consuming for him with treats, he's old and impatient, but will try it with some squeezy cheese as a licky ball instead. Snuffle May is perfect!
Enrichment box
Made mistake of leaving rope toy with dog for 2 minutes, now left with a rope ball.
Hippo tested
Got this for my beagle x Cocker Spaniel and she loves it so much. She was using the lick mat for half an hour and now she's out like a light. Money we'll spent if you ask me.The product is well made and you get so much for your money, it's excellent value!
Was pleasantly surprised!
All four items came! For the price I was just expecting a mystery box of just one or two items... Nope all items in the picture arrives! I have purchased these for Christmas presents so haven't just tried them out. But the Liki-mat is Liki-mat brand (which I have used before with my Cane Corso and American Staff and they are really durable). The snuffle matt looks really well made, so have no concerns there at all!!Really pleasantly surprised and will be ordering again!